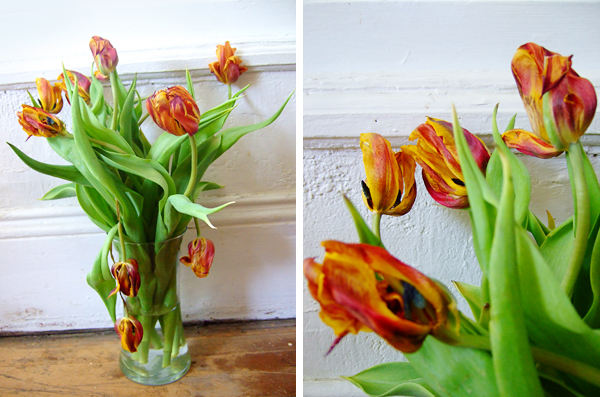 Am I going to blog about wilted flowers today?
Nope. However, I do like to observe when flowers slowly change and become unique in their decay. Some collapse looking quite sad, while others fight and try to stay on top of things. Just like people when they get older.
These tulips were the inspiration for an idea, which was meant to become this month's fabric manipulation. But then, while stitching I had another idea, and so it goes.
My last attempt to create a curtain wasn't at all what I was hoping for, but I still wanted to give the idea one more try. There was an old flowery bed sheet in my stack and I started to cut out and applique some individual flowers on a hand-made curtain. I like when light and shadow are an integral part of the design.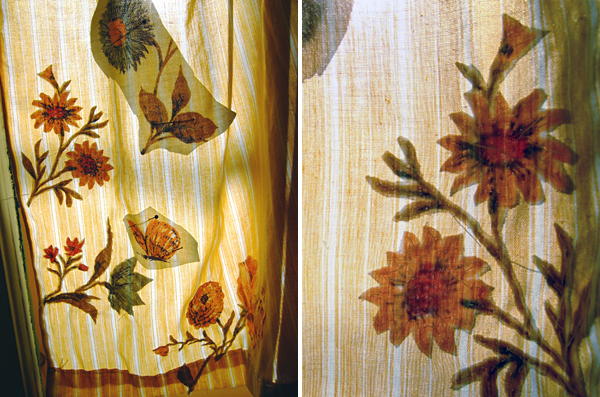 What you see on the left is the appliqued fabric with the light shining from behind. The top flower and butterfly are not cut yet. The image above right shows the reverse side, with the flowers being a bit blurred, but still recognizable. Reality beats blog pictures in this case, but you get the idea.
And here is one more impression in the morning light: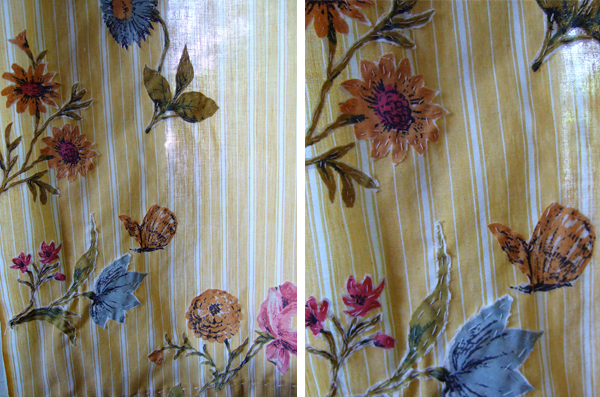 I've used reverse applique, because the stems and leaves are quite delicate and too much work to cut, pin and sew into place. Instead, I cut the flowers roughly from the bed sheet, sew them on and cut the excess away like in the image below. Will I ever applique the entire curtain? I don't think so, but it doesn't matter. Even just one flower or two make the curtain special in a humble way and I can always add more and let it grow slowly.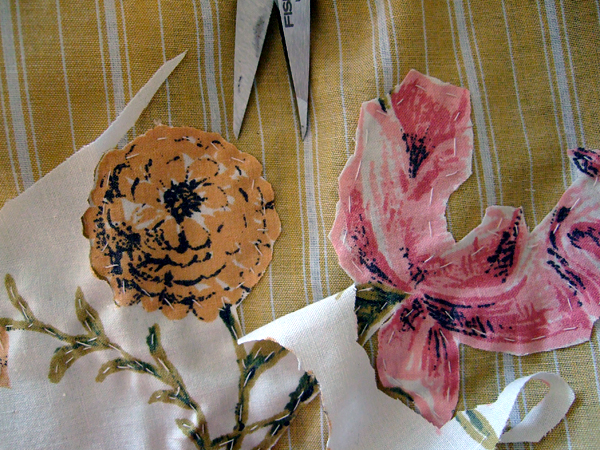 The important thing was to start and that can sometimes be difficult. Everyone is familiar with procrastination. Think of all the attempts to eat better, exercise more or clean the closet. Inertia sets in and…
Starting a creative project can be similar.
But last week, I made an interesting discovery, a technique to change one's behavior. BJ Fogg  of Stanford University works with the principle that every permanent change starts with a small step. The concept is to create a tiny habit and attach it to the end of an existing one.
The unique feature is that the new behavior shouldn't take longer than 30 seconds. Once the 30 seconds are over, it can be expanded if you feel like it. With that, procrastination is  out of the picture, because everyone has 30 seconds. Surprisingly, it really works. They were the best spent 30 seconds of last week.
What did I use it for? One of the things I did was to tackle the second biggest chaos zone in the house. You know, the kind, that looked like a thrift store had exploded into the 50 square feet of my front foyer. It was so big and messy that every time I passed I had to close my eyes. Well, not anymore.
If you feel the need for a change go to: http://tinyhabits.com/