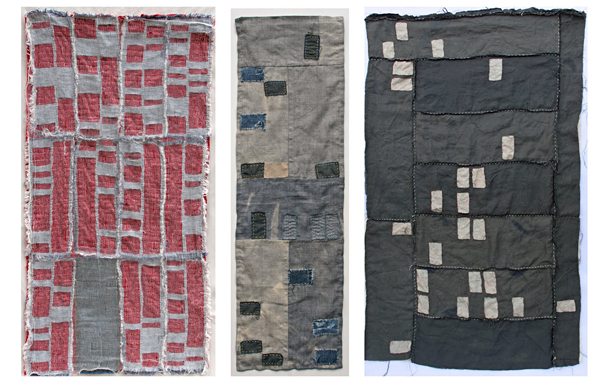 Before becoming a full time artist, Kathryn Clark spent several years working as an urban planner and architect. Through this work she became aware early, that the onset of the foreclosures during the last decade would have enormous future impact on cities, towns and neighborhoods throughout the US. And boy was she ever right.
In her own words: "It was important to me to present the whole story in a way that would captivate people's attention and make a memorable statement."  What an interesting professional and artistic evolution, don't you think?
The quilt patterns she creates are based on neighborhood maps with foreclosed lots shown as holes. Her work reminds of Japanese Boro Textiles and Gees Bend Quilts. Read more about her truly unique and inspiring work on her website and blog.
She is beginning a new series called landgrabbing. Countries through shell corporations are buying large quantities of land throughout the world to farm their own crops for shipment back to their own countries. Doesn't sound very sustainable, does it?

I like when art is the expression of beauty and social commentary combined.
(All photos copyright (c) Kathryn Clark)