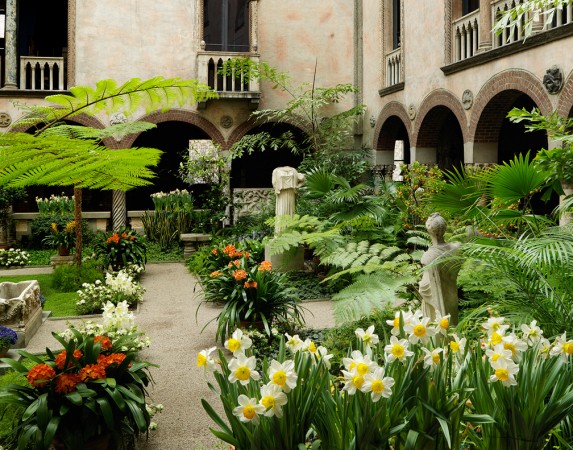 Isabella Stewart Gardner (1840 – 1924) was one interesting women. Intellectually curious, she loved to travel and with her husband Jack, they visited Europe, Egypt, Turkey and the Far East to learn about foreign cultures and expand her knowledge of art around the world. She was one of the per-eminent art collectors of her time managing to purchase several Rembrands, a Vermeer, Manets, several beautiful 16th century tapestries, furniture and more.  (A good thing to do when you have a lot of money.)
The press was both fascinated and scandalized by her. Isabella Gardner did not conform to the traditional restrained code of conduct expected of Boston matrons of her era. Instead, she lived an engaging, exuberant life including frequent travels, entertaining, and adventure. In 1912 at a formal concert of the Boston Symphony, she wore a white headband emblazoned with "Oh, you Red Sox".  It was reported to have "almost caused a panic", and still remains one of the most talked about of her eccentricities in Boston.
Times have changed. Now we have Lady Gaga, who wears a dress made out of meat to get a mild reaction from the press.
After her husband died, she started to build a museum, modeled after a Venetian palace, which opened its doors in 1903.
When Isabella passed away, her will stated that she would leave all her artwork for the world to enjoy forever, on the condition that her museum was left exactly the way it was. That means you enter the building and it's 1924.
With my camera charged I wanted to invite you to come with me for a stroll, but there was a strict looking woman who said it was very much verboten to take pictures. Oh, that was so disappointing, because even with my small crappy camera I could have captured some of the Edwardian atmosphere.
The museum has a phenomenal tapestry room with wall hangings dating from the 16th century. They are just amazing; full of detail and I wonder how they dyed their threads in 1550. Plants, yes?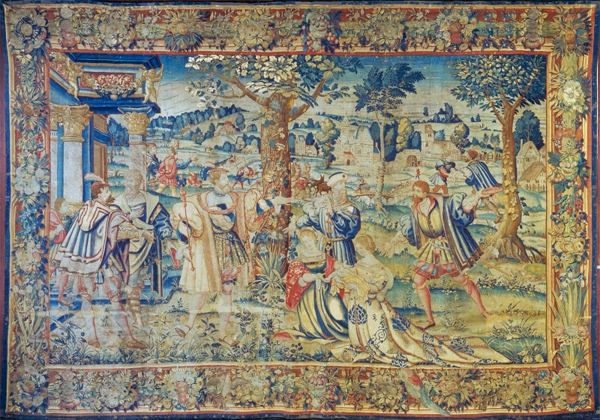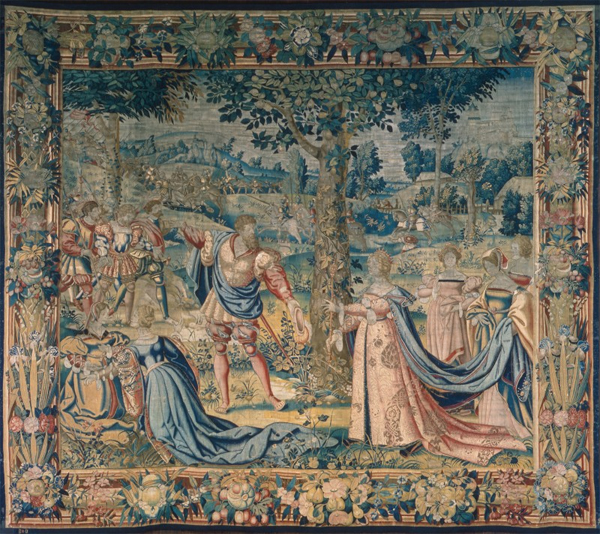 There is no point in showing more tapestries on this small screen, but here is a painting I love by John Sargent Singer: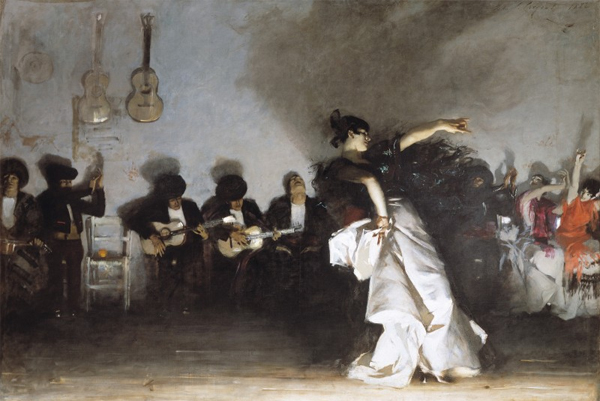 Although depicting a scene in Spain, for me the painting reflects the museum's mood: dark, romantic and full of life.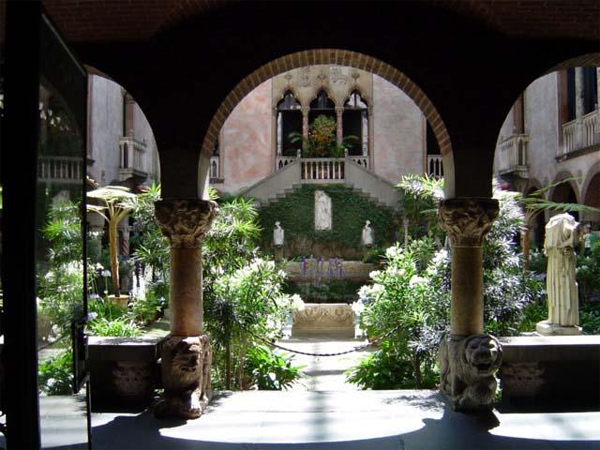 The romance is further enhanced by one of the biggest art thefts in history in 1990, when two men tied the guards to pipes in the basement and walked away with 13 major works of art including a Rembrandt, one of the only 43 existing Vemeers in the world, a Manet and others. The FBI is still looking for the thieves. My daughter was so intrigued that when we came home, she immediately started writing a story about the crime.
If you are in the area, a visit is highly recommended. If you are not, a virtual visit is always the next best thing.
And that my friends was my day in Boston.