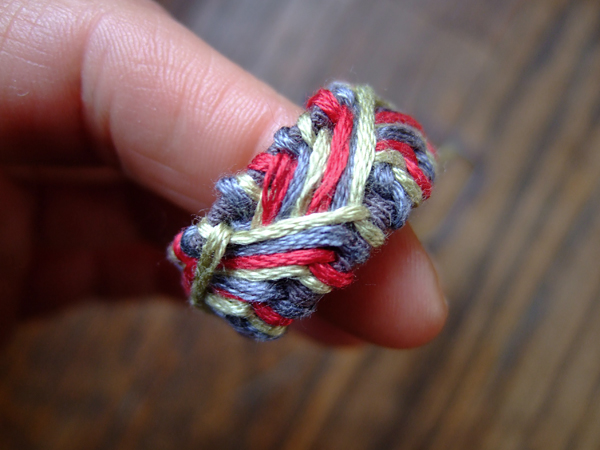 Over the break during the wee hours of the morning, I watched "The Lord of the Rings" while finishing a small embroidery.  And in between, while Frodo spent hours of screen time drudging through Mordor struggling with that darn ring, I drudged through the internet and discovered these very beautiful Japanese thimbles, called yubinuki.  The whole ring theme seemed apt for this month's fabric play.
The thimbles below are from the Kaga region of Japan, which is known for its textile work and the making of fine kimonos. In the true spirit of Mottainai, to not let anything go to waste the leftover silk threads were used to make beautifully designed thimbles like those below.
Isn't it amazing to produce such marvelous embroidery on such a humble item as a thimble.
These thimbles are worn between the second and third knuckle on the middle finger of your stitching hand with the needle pushing against the fabric just like in the illustration below from John Marshall's book, 'Make Your  Own Japanese Clothes'.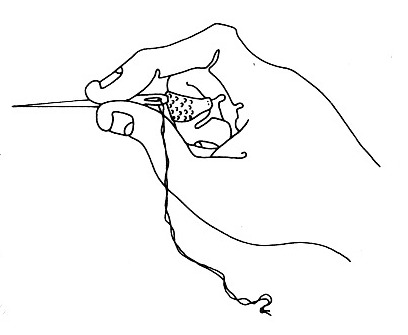 Of course, I had to give that a try. I found great information with easy to follow instructions on Shishi Girl's blog here. Of course, the Japanese versions are measured to the millimeter and mine are measured with my failing eyesight, but that's how I like it.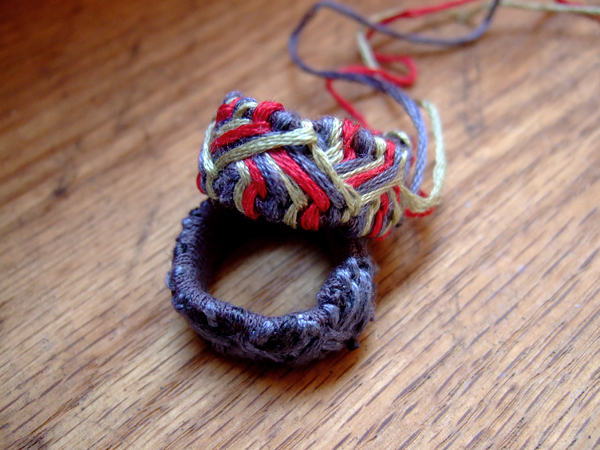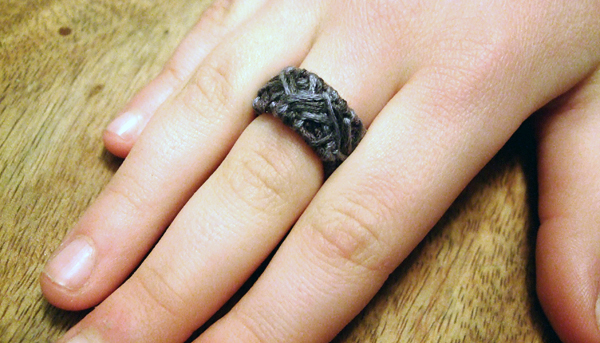 The "real ones" are built and embroidered around a foundation of rice paper and silk batting, and mine are recycling t-shirts and linen, because that's what I had on hand. I also didn't follow the instructions, as you can see below, because mine don't have any batting and are clearly a peasant version of a true yubinaki. Honestly, it's even a far stretch to connect the two.
I ended up with very few thimbles, as they do require a bit of trial and error.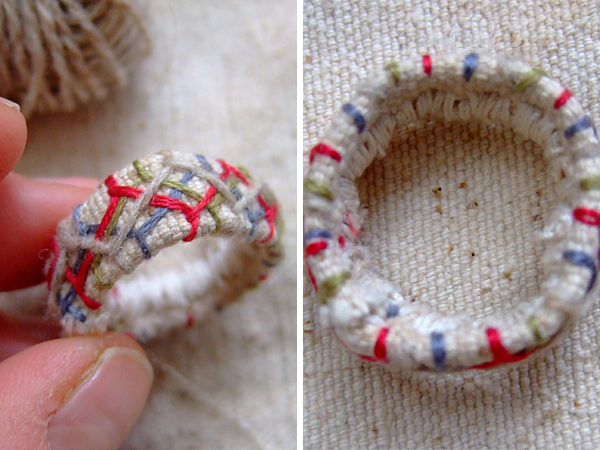 I specifically like these beautiful and humble vintage thimbles below found on the Wafu Works blog, a shop and enterprise specializing in vintage Japanese art and textiles. Aren't these beautiful?
Image (c) Wafu Works
I think they are really more like jewelry. The concept would also work for making bracelets or beads…..ah, the possibilities!
Visit Nahtzugabe to see what else has been played with during this month fabric play.