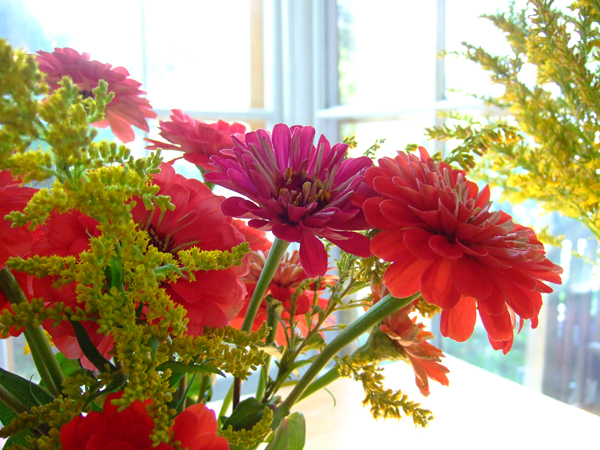 Yesterday, I had an adventure.
The day started out like any typical busy Monday; the normal frenzy to get the lunch ready, the kid up and dressed and fed, the homework together, the instrument packed for band practice and out the door with my husband who had to trek to the next block over to get the car, because the city is replacing a drainage pipe right outside our house and closed the street.
I took a deep breath and sat with my cup of coffee  in front of the computer. My husband comes back and we start to work.
Ten minutes later we hear a loud bang just outside our door, followed by an angry hiss. My husband goes up to investigate and I hear  him run down the stairs and shout: "Out of the house, NOW!!!!" It wasn't a polite request, it was an order and not one to mess with.  We run out of the house through a cloud of nasty smelling gas, my neat looking husband and I, a sorry mess in flimsy ballet slippers, a thin long-sleeved t-shirt, at 43 F (that's 6 Celsius for the Europeans!) standing in the street, unwashed with greasy hair. It was cold.
The street construction crew broke a 4 inch gas main with the  noxious and flammable gas funneling straight into our house.
After 3 minutes of standing there, the excitement wore off and I realized how cold it was and how unprepared I was to be standing there. This was obviously not going to be a ten minute fire drill. We had 5 dollars in our pocket and nothing else. No keys, no phone, no wallet, no purse, no shoes, no jacket. To cheer me up my husband painted a situation of me taking a shower with shampoo in my hair while  simultaneously being thrown out of the house and I had to admit, given the alternative, I was lucky.
One large heavy construction worker with blond hair, a grey beard and sparkly eyes, told me not to worry. "It's probably not gonna to blow up", he said reassuringly. "Last week we had two houses blow up like popcorn, wasn't anything left but the foundations, but the pipe was 2-inches bigger than the one you have."   While he was talking I was picturing our house blowing up with all of our belongings floating slowly over the city. It was a poetic image. Then I thought about our insurance which would probably deny any claim on the grounds that this was "force majeure" or an act of god. Well, force majeure with a shovel.
After 4 firetrucks, the gas company and the press arrived, we quietly retreated without being noticed and went for a cup of coffee, basically because I didn't feel very photogenic and my cold toes started to make tinkling sounds.
The entire time I was thinking how little in that house I really needed…or even wanted. If I had to name ten things of importance, it would have been difficult. Yes, the travel memorabilia were irreplaceable, but the memories were already with me. To lose some of our friends original art would have been very sad. If I expressed myself more through "tangible objects" like art I know I would feel very different. If you were thrown out of your house, what would you rescue?
After a few hours, we were allowed back into our house. The whole episode was a reminder of what's important and what's not.
It's Thanksgiving this week and I'm very much aware of how thankful I am.
Now that you've made it this far, below is a half finished post that I started Sunday night. It has some links to food, a good pizza dough recipe and a reminder that Sunday is fabric play date.
See you on Sunday!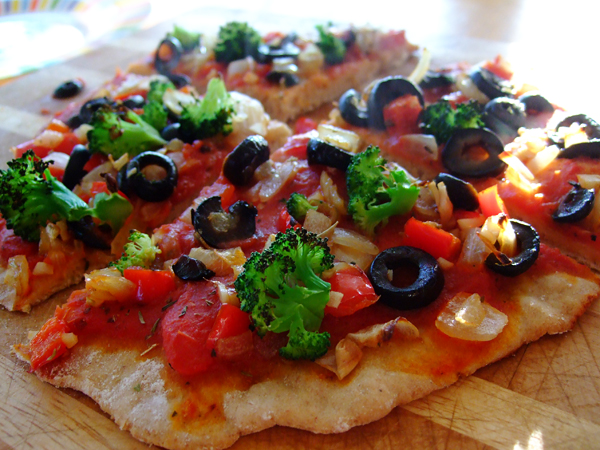 Food is on my mind, because on Thursday we'll be celebrating Thanksgiving here in the US.
I'm hosting and will be cooking all day Wednesday while sipping champagne, one of my favorite parts of the celebration.
The NY Times Harvest Tart was on our menu last year and deserves a repeat. Not only does it taste great, but it also makes a beautiful centerpiece to replace the Turkey if you happen to be vegetarian.
And while I won't make pizza, I made this one the other day and it's worth sharing.
– 1/2 cups of tepid water (more if dough is too dry)
– 2 1/4 tsp dry yeast
– 3 cups of flour
– 1 tsp salt
– 1/2 tsp sugar
– 2/3 tbs olive oil
Stir yeast into tepid water and dissolve.
In a separate bowl mix flour, salt and sugar.
Dump dough on kitchen counter and make a volcano.
Make a "crater" and pour the water/yeast mixture inside.
Move the flour from the outside into the crater until dough is partly mixed.
Add olive oil and knead the dough with your hands until it's smooth, but not too dry and can be pulled apart. It's more a matter of feel in the hands than the result of precise measurements.
Place dough in a bowl, cover with a clean damp warm dishtowel and let rise for about an hour until dough has doubled. Quickly knead once more and divide into four balls for small pizzas or 2 for larger ones. Let rest 15 more minutes.
Roll out four pizzas
Top with sauteed onions, red pepper, steamed broccoli and black olives, which is our favorite nowadays. In summer I like fresh tomatoes and basil. And if you are adventurous for a fall pizza (with pumpkin!) Chloe Coscarelli has an interesting sounding recipe here.
Fabric will be hosted here on Sunday. I've been playing and the results are interesting so far.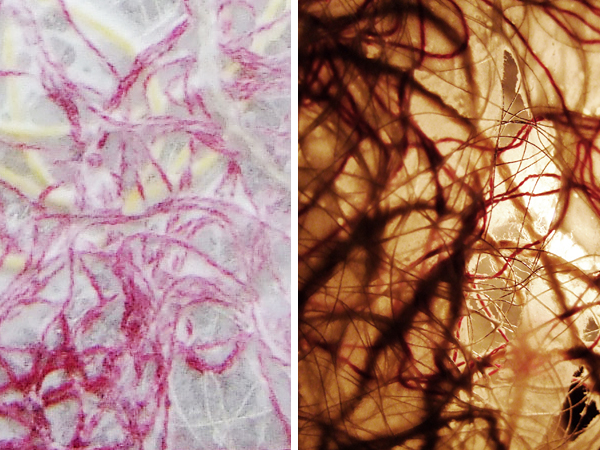 See you on Sunday!