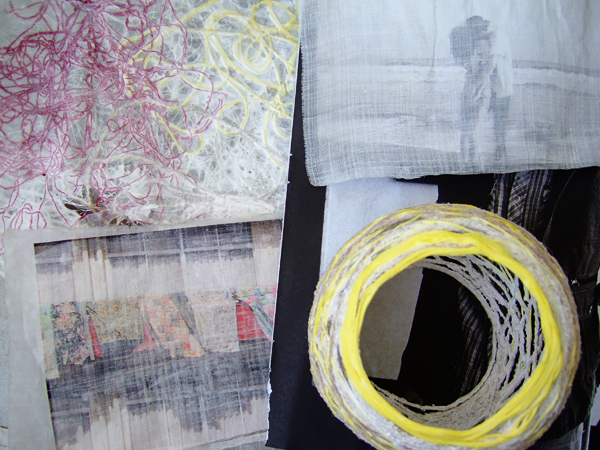 Now that we are in the darkest time of the year,  I decided on light and shadow as this month's fabric manipulation theme, but given my limited success, it soon morphed into a surface and texture exploration.
It started small. A balloon, some wool and a combination of white glue and cornstarch to create…. a light perhaps. It didn't work.  It wasn't that exciting and not manipulated fabric either.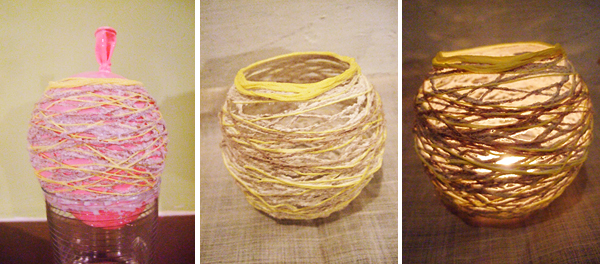 Usually I don't combine fabric and glue. For some reason they don't go together in my world and if it wasn't for fabric "exploration" I might not have ventured further. However, there is something quite satisfying about sculpting with threads and paste, which I discovered by making this rather strange sheet of "fabric" below.  It's not soft, but I think it would qualify as fabric in a broader sense: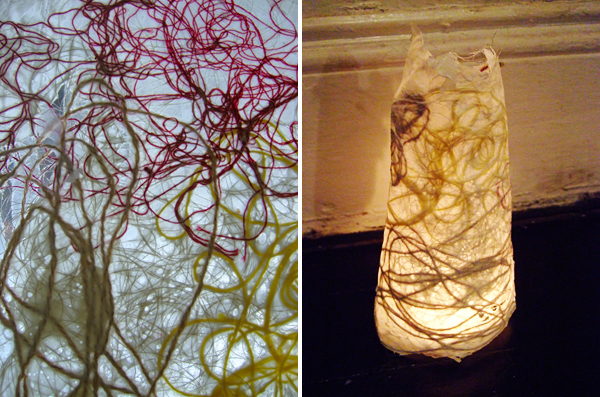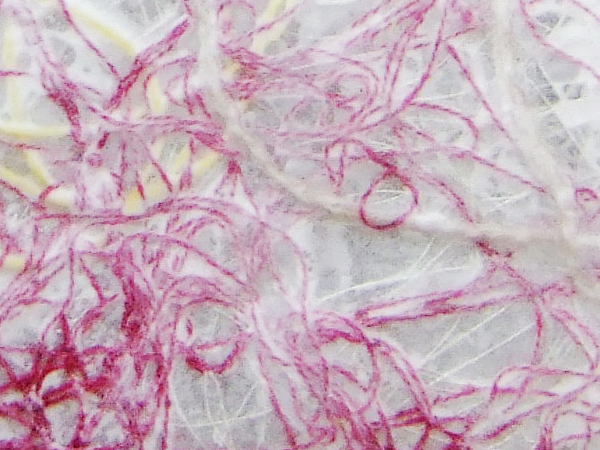 There is no real application for this, other than shining a light from behind and make a "light sculpture",  but the pliable texture is interesting. I essentially embedded different threads into a concoction of white glue and cornstarch. The cornstarch made the end result somewhat flexible. It's also possible to cut it into different shapes or forms.
Below was more interesting, not in terms of the outcome, but as a technique to be explored further:
I cut a random piece from an Urban Outfitter catalog which was then pasted onto a finely woven piece of handkerchief linen.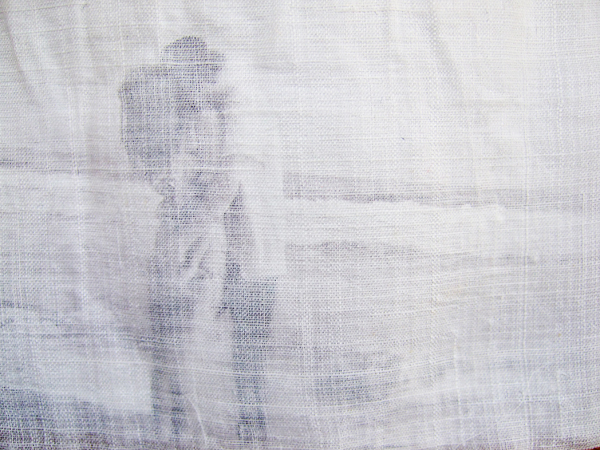 The result is a foggy image which seems like a memory,  faded and barely accessible. However, as the paper was printed on both sides, it came to life when lit from behind: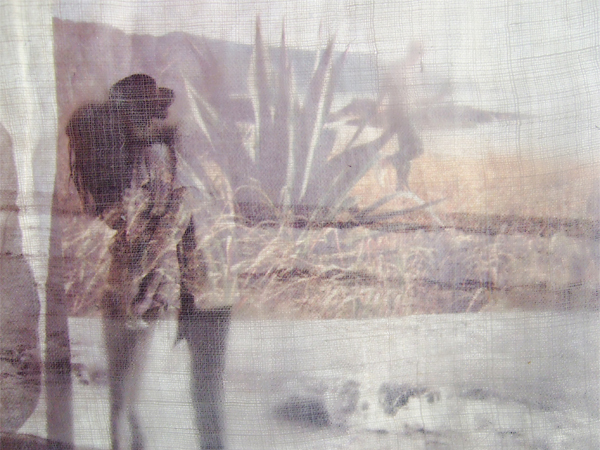 Ahhhh – suddenly there is another guy in the story. So this is what happens when things come to light, a whole new dimension.
My next attempt will be adding text on the last layer instead of an image. It would make a perfect table light or lampshade. It is also a great project with kids and very satisfying because of its quick results.
This image below is from the same catalog and pasted on the linen. Some hand stitches would be interesting on the texture.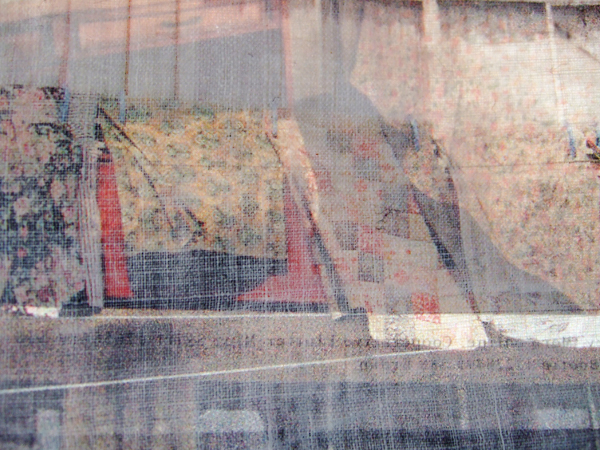 Here is the original to see how it changes: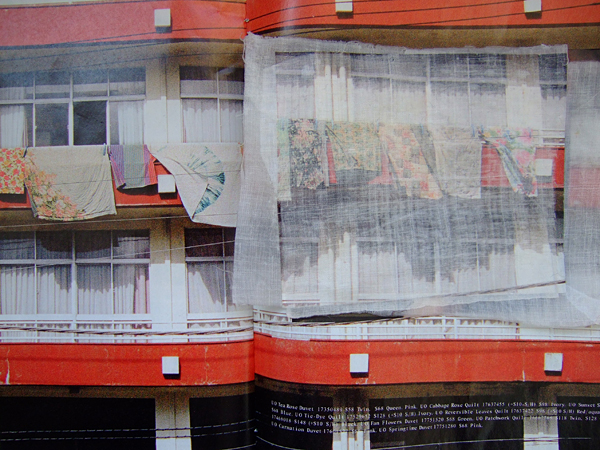 And then I found Chris K. Palmer on the web, master of playing with light and shadow. Look at what he does by folding starched fabric: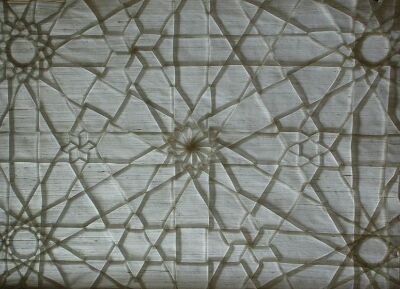 His book is called: "Shadowfolds: Surprisingly Easy-to-Make Geometric Designs in Fabric", if you would like to give this a try. It doesn't look so "surprisingly easy", but I want to believe it is.
I thought Pojagi would result in a similar effect and it does: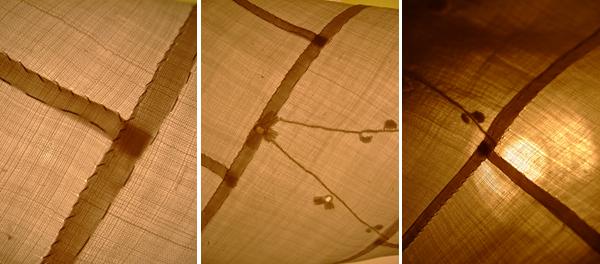 But then Thanksgiving arrived with its requirement of cooking rather than concocting fabric manipulations; so that's where I left it.
Hope you had fun with your own ideas!
**************************
Let's take a look who has experimented this month:
kaze played with the concept of fabric as origami
t.tally folded fabric into a beautiful representation of November
suschna converted fabric into berries and a light purple November flower
siebensachen experimented with embossing velvet
nahtzugabe created a beautiful accessory inspired by light and shadow.
machwerk was inspired by cording and made a beautiful "Utensilo"
KunstundKleider artfully combined crochet and felting in unexpected ways
tinitaschen created a pretty pouch using pleating and a silk