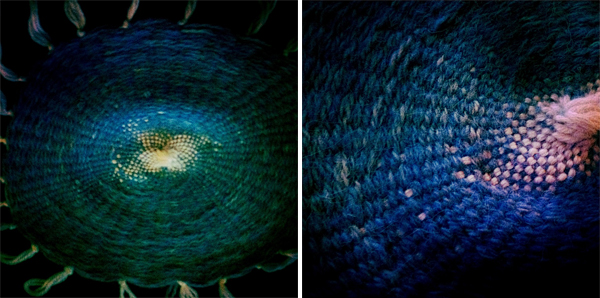 Now that the election is finally over, I can go back and finish my dining room instead of reading polls all day.  I'm still in the midst of plastering and filling holes and my ambition is to celebrate Thanksgiving in a newly painted decent dining room. Wish me luck.
Election time is a reminder how much we're all connected and that each of us can make a difference when we join forces. This also applies to our monthly fabric explorations, which so far was hosted by the German blogger suschna all by herself. To share in that responsibility, some of us 'manipulators' have decided to help out by hosting the monthly event on our respective blogs.
On November 25th, it is my turn. I'm thinking of exploring with either origami or shadow and light. If nothing interesting happens out of that, I'm just picking a random word from the dictionary for inspiration. If you would like to participate, just send me the link to your post at kathrin@annekata.com or leave a comment on Nov. 25 and I'll link you in. Any projects finished or not, big or small are welcome and very much appreciated.
Speaking of networks and cross cultural projects – last month talented Danish knitter Thea from http://the-knitting-bee.blogspot.com/ (see top image) contacted me . On November 13th she's organizing  google+ hangout regarding –  in her words – "what is a net, a web, a network and how do we make a blanket symbolizing a net…"
If you would like to be part of this, see Thea's invitation. I'm not a knitter or crocheter (is that a word?), but I'll be there on Nov. 13th, because I'm interested.
Who knows who we're going to meet? It will also be a great way to understand google+ better and, as I'm still not on facebook, but love the idea of connecting and meeting people from all over the world, I am going to give google+ a try.
Will you join?