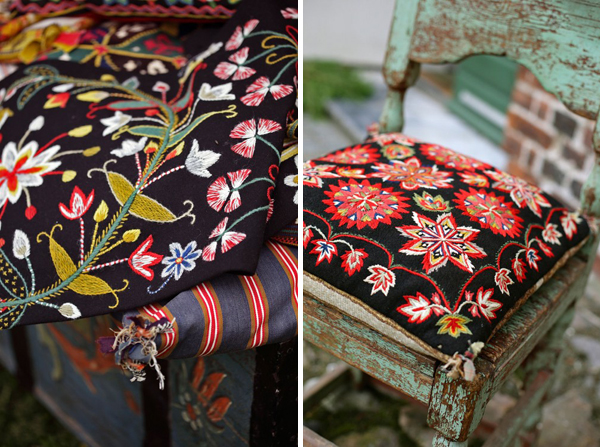 Foto Lucas Gölén from the book "Yllebroderier"
Ever since I've discovered Hallandssöm last week, I've been exploring the world of Swedish embroidery.  Thanks to very helpful reader M. I spent more time on the internet than with my family last week. She sent me a wealth of information and links to explore the many talented brodös, which is Swedish for embroiderer.
Yllebroderi, or in English: wool embroidery dates back to the 17th and 18th century,  a time, when Mary Delaney created her wonderful botanical compositions of hand cut flowers all mounted on black background. When I saw yllebroderi for the first time I was instantly reminded of her botanicals, even though the nature of her work is quite different.
Hemslöjdens Förlag in Sweden publishes beautiful craft books including this one: Brodera på ylle.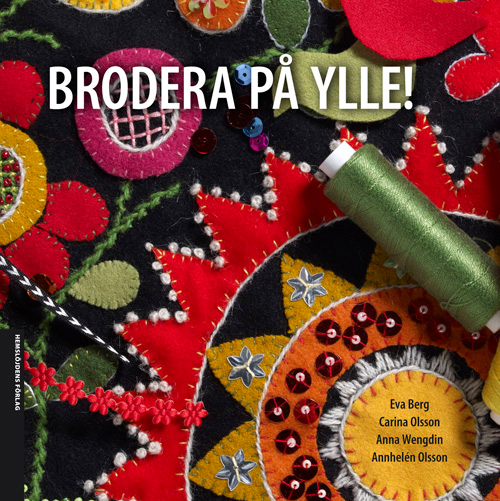 and also this one: Yllebroderier (see close up at top images):
On my Scandinavian internet journey, I also discovered Frida Arnqvist Engström, who writes the interesting blog Kurbits, covering embroidery, arts and crafts.
Lina Holm offers wool embroidered accessories translating traditional designs into modern accessories.
And here are more craft/art/embroidery blogs (all in Swedish). WARNING: Don't visit, if you have any plans for the day.
http://mednalochtrad.blogspot.com/
http://www.karinholmberg.se/
http://avigan.blogg.se/
As for my own experimentation with wool embroidery, I decided to make coasters experimenting with wool, which is completely impractical and was prone to fail. And fail it did.
What I discovered it that counting and making a precise pattern is not what I like doing. It worked when creating the initial sample for the fabric manipulation, because at that time it was a brand new challenge. Subsequently I saw myself creating many beautiful designs and projects using Hallandssöm.
Reality looked more like this: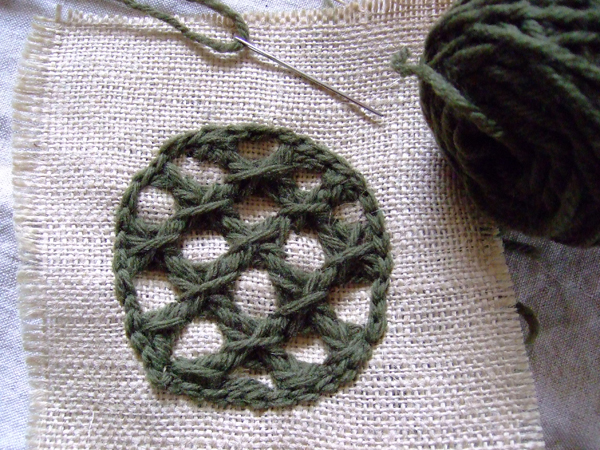 Yes, the pattern is still great, but I discovered that I didn't like to do this this kind of "almost thread count". It usually happens that the "figuring-out-part" is what interests me and after that's done, my interest wanes. Or better yet, it pops, just like a balloon. Not that I don't appreciate the technique and the end result, but it'll end up in my "future projects bin".
Small scale free hand embroideries are next on my list.
I secretly hope to discover one day a technique/theme/material that ignites my passions so strongly, that I would explore in great depth and detail.
But, I'll be patient; after all Mary crafted her whole life before she "discovered" collage at the age of 72.
Till then, more ideas, more experiments, more wandering.