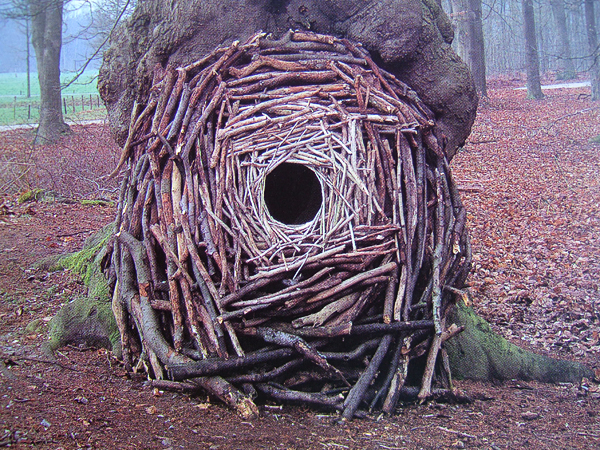 It's astounding what you can do with a bunch of wood pieces when you are Andy Goldsworthy. For this month's fabric play I chose to think about/stitch and create holes. Goldworthy's book "Time" was my first inspiration: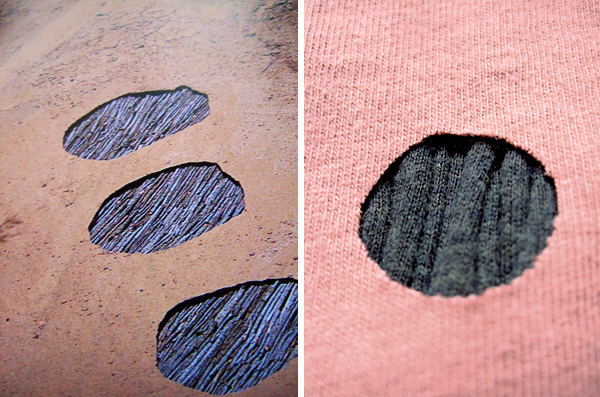 The image on the left is a river bed where the mud has been removed and sticks put carefully in the hole. When I found the (nearly) perfect thrifted shirt of the same color, I was hooked,  but the end result was not as exciting as I hoped for. Next I read once again an old favorite, "The Philosophic Sociology of the Hole" written in 1931 by German-Jewish journalist/writer Kurt Tucholsky.
Here are some excerpts in German (with English translations underneath):

Das merkwuerdigste an einem Loch ist der Rand.
Er gehoert noch zum etwas, sieht aber bestaendig in das Nichts.
Das Loch ist eine Grenzwache der Materie! Das Nichts, aus dem das Loch besteht, hat keine Grenzwache: waehrend den Molekuelen am Rand eines Loches schwindlig wird, weil sie in das Loch sehen, wird den Molekuelen des Loches…festlig? Dafuer gibt es kein Wort.

….The most intriguing part of a hole is it's edge.
It still is a part of some thing but looks constantly into nothing.
It is guarding the frontier of the material.
The no-thing has no guard of its frontier…..

Manche Gegenstaende werden durch ein einziges Loechlein entwertet; weil an einer Stelle von ihnen etwas nicht ist, gilt nun das ganze uebrige nichts mehr. Beispiele:
Ein Fahrschein, ein Luftballon, eine Jungfrau.

….Some things lose value because of a single small hole:
because in a part of them there is a "no-thing", all the rest isn't worth anything anymore.
Example: a ticket, a virgin, a balloon…..
Read the full German version here and the English one here.
The idea of something losing value, because it has a small hole, fascinates me. After all, this is precisely why mending is an act of rebellion against consumerism.
I wanted to make a piece of fabric, that has more holes than fabric and that's exactly what I did. My husband looking over my shoulder remarked rather dryly that more holes than fabric translates into lace, and he's right.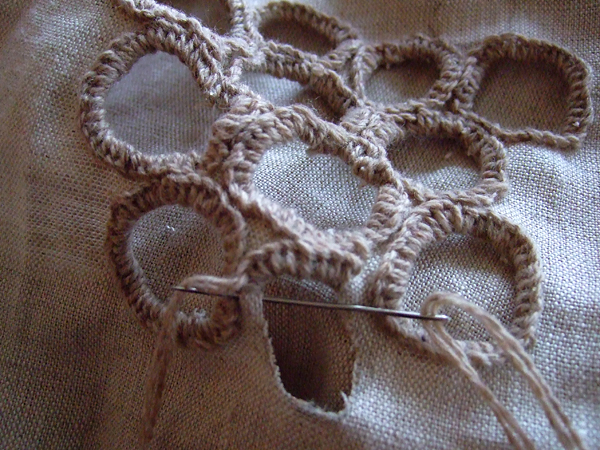 But, my coarse eyelets of wool on linen have nothing to do with lace; they are just a collection of holes with almost all the fabric between removed. The fabric piece looks like wabi-sabi tatting. I didn't have the time (as usual, I started this week…) to experiment with different shapes and materials. Hexagons might look more interesting, because with Hexagons, there's no extra fabric between the holes.
Ultimately, I ended up with this: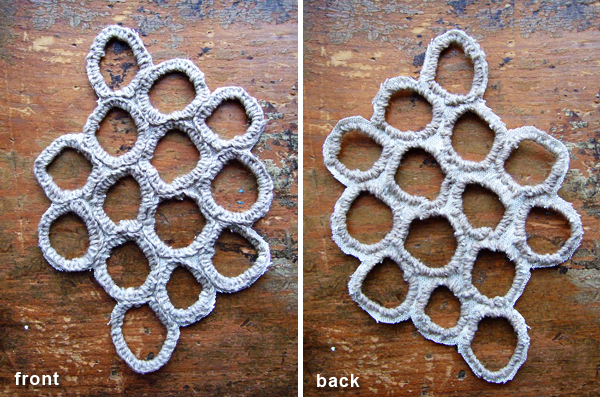 The outcome was not very exciting, but what was however, was how I spent my time creating it:  My original sources of inspiration, Andy Goldsworthy's great book "Time" and Tucholsky's writings were familiar but viewed entirely through a different lens.
Originally, I didn't want to show this rather meager result of my mind's meanderings, but then failure belongs to experimentation. They are joined however awkwardly at the hip, and who knows, it may also help encourage those of you who feel shy to participate…..It's all about experimentation and play. And maybe this experimentation leads to a new revelation.  I'll sleep over it.
For more ideas, visit suschna.