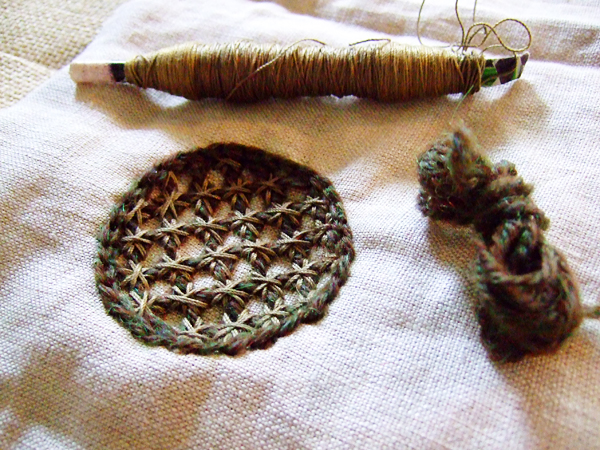 This week I encountered Hallandssöm embroidery. At first I thought Hallandssöm was a quaint village somewhere in Sweden, birthplace of this interesting technique, but google maps didn't  back me up. So I'm not sure from where it derives its name.
Embroidery manipulates a fabric's surface. What I did here, using this process, is not true fabric manipulation, which includes twisting, knotting and/or folding, transforming a piece of fabric dramatically.
But when I found this image through pinterest, I wanted to give Hallandssöm a try. Here is my very first attempt which looks wonky and nothing compared to the neat example in the blog: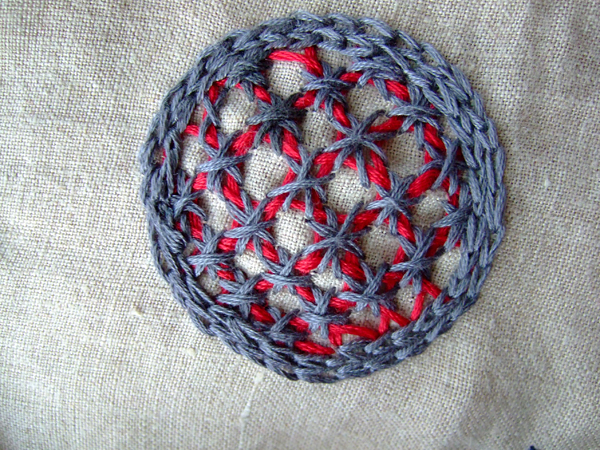 I usually don't venture into precise "counting-stitches-territory", but the possibility of making a complex looking surface with two very simple stitches was tempting: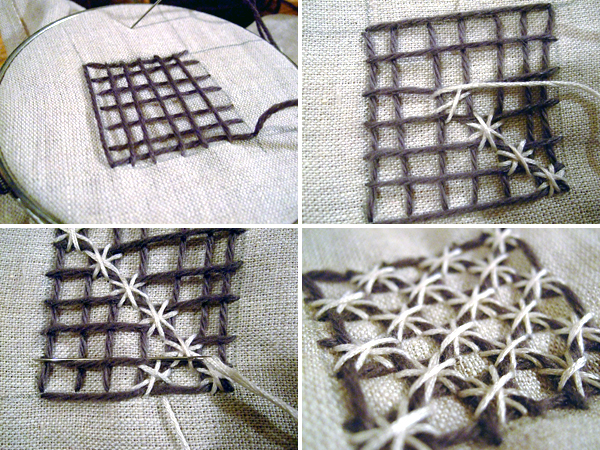 The procedure is simple. Draw a circle (or square) and make a grid. The above sample uses wool. As there were no instructions available, I simply stitched a star on the alternating squares in diagonal rows. That's probably not the proper way, but it's easy enough to do while watching a movie or following a radio show.  Once the sample above was finished it became clear that matching thread colors look far better than contrasting ones.
My favorite experiment is the one below using just one kind of thread.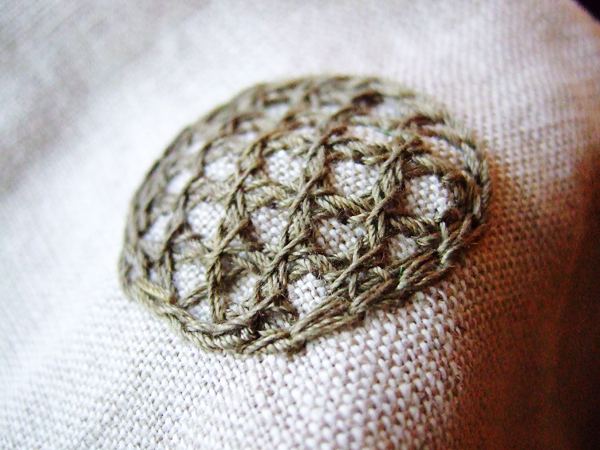 The grid was made with a double strand of pale green thread, and as for the stars just a single strand of the same color and thickness was used.
It looks a bit like chair caning, which is what I was after.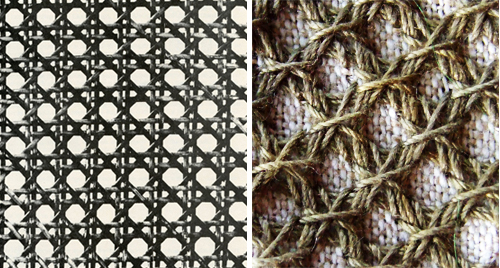 Of course I didn't get as far as intended which was covering a whole piece of fabric with this stitch, but the image above shows its potential.
There is not much information on the web regarding Hallandssöm embroidery. Here are a few examples of the classical look with instructions, and here are some more…both are Swedish blogs. If you happen to know any more about the topic, would you please let me know? I'm interested in how this technique has been applied in a more modern setting.
For more fabric manipulations, go visit Lucy, who is collecting this month's manipulations.