Who would have thought that an Alabama Chanin stencil could be used to create a "frosted glass" window.  Tempera craft paint (not regular paint), a container, a kitchen sponge and 5 minutes is all you need.
The design blocks the views but let's all the light in when the paint is properly diluted with water. Chanin's stencil "Bloom" reminds me of falling leaves, perfect for my favorite upcoming season.
Here is what you need if you want to give it a try:
– a suitable stencil (mine is from Alabama Chanin's first book)
– Tempera Craft Paint (DO NOT USE REGULAR PAINT,  so you can wash it all off, when the mood changes)
– a small container (anything will work, because tempera paint is non-toxic)
– a kitchen sponge
– paper towels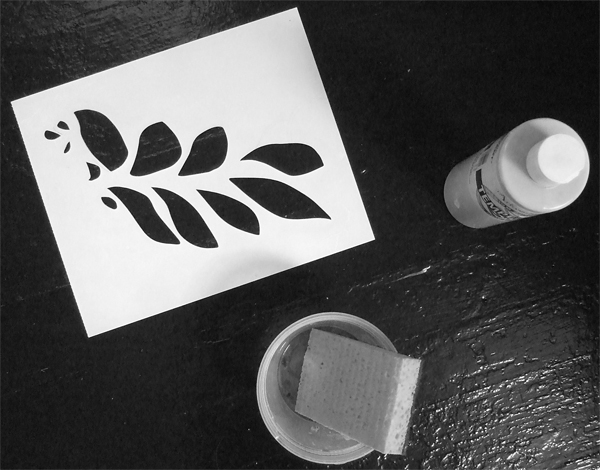 1. Place a little paint in the container. A little goes a long way…
2. Dilute with a bit of water and try sponging it with the stencil on the window. If the mixture is too runny, add more paint. For a more realistic frosted glass look, use a denser sponge.
Don't worry if you make a mess at first, a damp paper towel will clean it up easily. Any stencil will work, if the the design is not too intricate. However,  I might give snowflakes a try -not that I'm rushing things- , but this would be a perfect project with children.
I'm also still making bracelets. Here's my latest version: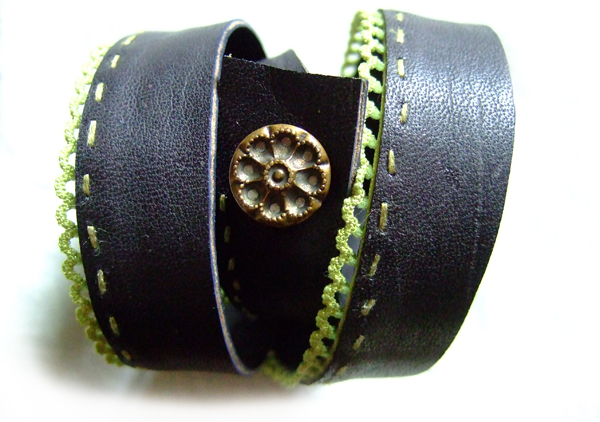 This is one of those projects where the end result improves the more I make and experiment.
When they're worn over time they will look better and better as the leather becomes more supple. Lucky me that I still have 100 yards of leather binding left……
Enjoy your weekend.