"Herzliche Gruesse aus der Baumwollspinnerei"
("Greetings from the cotton mill")
Normally I chose a place to visit and then look for a centrally located apartment to explore the surroundings.
However, this time, we decided to chose the place to stay first and take the city that comes with it. By spinning the procedure the other way, it would give us the opportunity to explore in a very different way than we're used to. Where did we go?
Given my love of fabric, run down loft living, art and improvisation, we decided to rent a room in the "Baumwollspinnerei", a 10-acre former cotton mill complex in Leipzig.  It was one of the biggest factories of its kind in Central Europe employing 4000 people until it was closed in 1989.
What can you do with an abandoned ten acre cotton mill complex in the middle of a university city? How about turning it into studio spaces for struggling artists and galleries to highlight their work.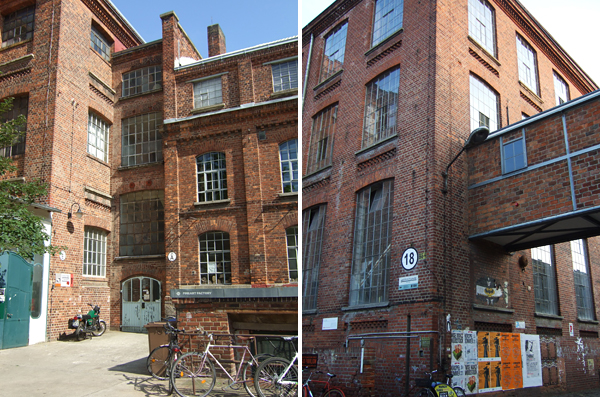 It also features an outdoor movie theater below right…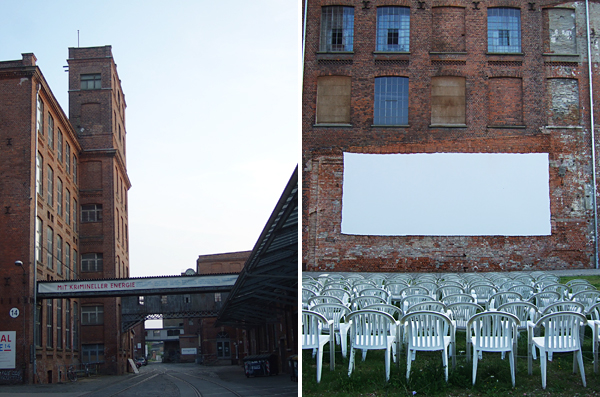 …..a great art supply store, a theater troupe and many artists to discover.
Best of all, there are two phenomenal lofts to rent, the Meisterzimmer (see top image – we stayed in Meisterzimmer 60). The huge room feels like a NY loft and is the perfect place to discover Leipzig's art scene with painters from the New Leipzig School.
I rarely travel without extensively reading about the history of a place unless it's nature in its original state and therefore timeless.
The cotton mill's history started with a never ending demand for cotton.
"In 1887, 318 workers, working a maximum 77-hour week, processed a total of 6,200 bales of cotton into over 1 million kilos of thread. Only twenty years later, 20,000 bales of cotton were processed into 5 million kilos of thread by 1,600 workers working a ten-hour day. In just 25 years the Leipzig Baumwollspinnerei had become the largest spinning mill on the continent, with 240,000 spindles, 20,000 thread-twisting spindles and 208 combing machines." (spinnerei.de)
There's a great book to help find these treasured places in Germany and around the world: "In Bed With Art" is mostly written in German and features mainly German accommodations, but it also includes 16 entries outside Europe.  The author Katharina Kniess features portraits of  hotels, pensions and private b&bs,  all of which are in some way related to art and artists.
The cotton mill is one of those fantastic finds and will hopefully remain so for a long time. Often, when a place like that becomes "hip" and is featured as a secret tip, (or appears on a blog…) it loses some of its charm over time.
What a dilemma….by searching for the unique, untouched and pristine, we destroy it through finding it.