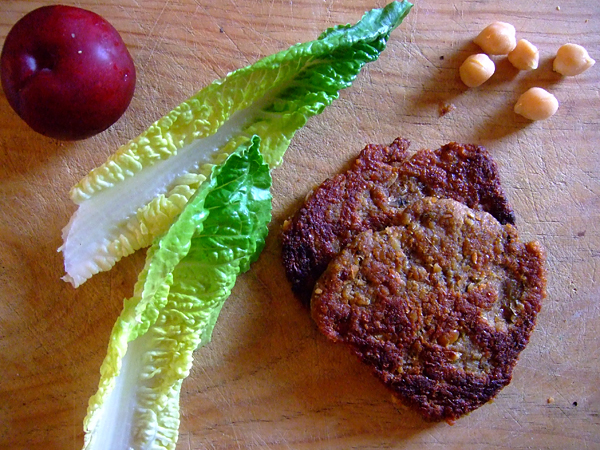 What do you eat when you're on the road?
Yesterday I cooked some food for our upcoming trip. In the past, I used to eat whatever it is that they serve on the airplane because I never planned in advance and  always ended up being hungry during the flight.  I would wait anxiously for the steward/ess to arrive with his/her cart, and eat whatever goop they put in front of me, including the weird chicken in the questionable sauce, the chewy roll and the plast-icky fruit. And, of course, the piece of dry cake wrapped in plastic.
On long car rides I would eat hamburgers with potato chips and wash them down with soda at McDonald's, often the only food available; and M&M's for dessert.
I'd never ever eat any of that at home, but the road was an exception, part of the travel experience.  Of course, one doesn't feel very well, after eating food that's completely devoid of any nutrition – might as well have eaten cardboard with some butter. However, I always blamed my fatigue of "traveling" either on the jet lag, or the long car ride with cramped legs.
Two years ago, we completely changed our diet and started to bring our own food while traveling. At first bringing food added to the general anxiety of getting ready, not only because there was additional planning and preparation, but it also adds weight and bulk to the hand luggage. Not that much fun.
But then, the reward it big. Really BIG. Not sure if it's due to the placebo effect, but the jet lag is so much more bearable and now I even feel great after long rides in the car. I can even function without a nap after a red eye to Europe.
Here's what we're bringing this year:
fruit (apples are good, they have a high water content)
veggies, if I'm really organized (baby carrots, snap peas or celery pieces)
some kind of snack bar (I'm in love with Larabars, especially the cherry pie kind, which I could make myself if I had the time. I don't. If you want to make your own Larabars, here's the recipe with only 3 ingredients.
chickpea cutlets (see top image) It doesn't matter if you travel or not, are vegetarian or not, these are great. I have modified the recipe slightly and only, because I didn't have the breadcrumbs the recipe called for. Instead, I use half a cup of wheat germ and half a cup of oats. I also double up on the spices, but that's a matter of taste. These cutlets always turn out, are delicious with ketchup or without, and travel well.
I will freeze yesterday's batch, and thaw them on the way to the airport, so they're ready, when I board the flight.
Here's an article on how to beat jet lag by fasting until you reach your destination as the process of eating after a fast resets the body's clock:
Avoid all food from the time you get to the airport (i.e., about two hours before departure)
Don't eat during the flight — but still drink plenty of water
Eat soon after you land, as close to a local meal time as possible
It makes complete sense, but not sure if it's right for me.
How to you travel? Do you bring food? Any travel food recipes?