What do the Neuronal Networks of a mouse have to do with the Millenium Simulation? Manuel Limas explores the power of networks and how to visualize an increasingly complex world in this phenomenal video above.
Only 3 weeks left till vacation starts. We'll be heading to Europe for most of the summer and I can't wait to see friends and family. I live in a college town and every year, when the students leave, the community finds itself again by throwing a big party with a crazy parade. Besides the typical stilt walkers, community schools and organizations, it also features a Chain Saw Marching Band which sounds just as grueling as the name suggests.

But the parade wouldn't be complete without the famed Volvo ballet in which Volvos (there must be more of them than inhabitants in our town) wear gauzy ballet skirts, show of their turning radius' and tattooed guys in ballet gear dance on top of the many station wagons. I also need a new camera it seems.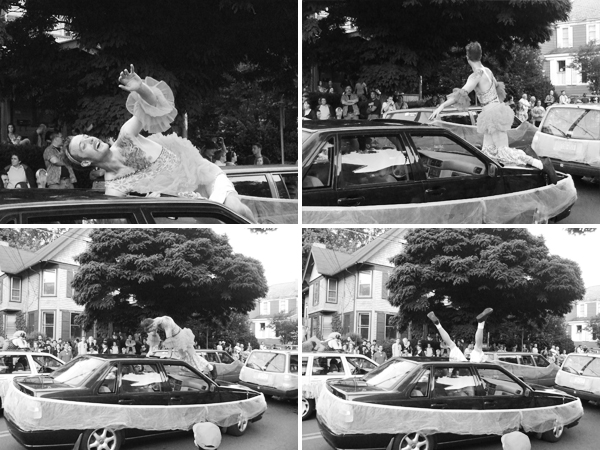 Here are some more interesting things I found browsing the web:
A black filmmaker who transitions back to her natural hair. It must be a relief to get away from all the straighteners and chemicals and I can image how liberating it must feel to escape the pressure of society to look certain way, approved by trends and taste makers (and the manufacturers of straightening products). Is it similar when we explore going grey?
A reader sent me a link to the fascinating project in Chile "Coded Stories" by Guillermo Bert, calling attention to the situation of Chilean's Mapuche Indians, who are known for their intricate fine geometric textile weaves. The premise is  to embed bar codes into their work keeping their stories alive:

I'll be taking a few days off the computer and web to concentrate on our upcoming trip and end of school year activities for my daughter.
See you a week from Monday!