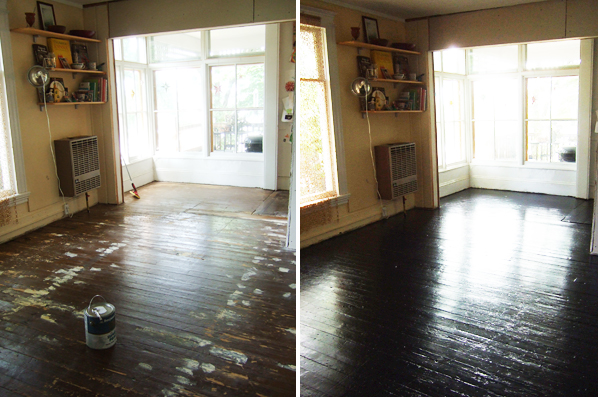 This week I manipulated many things, all except fabric. It's the last Sunday of June and sadly I have nothing to show you. However I did  manipulate a floor – that "darn" floor, that never became, and also my sleep pattern.
Leaving on vacation is a perfect moment to start a big project, so I decided 3 days before leaving to add a little anxiety to our travel preparations and paint our dining room floor black. Laying a wood floor was the initial plan, but painting is less work, less fuss and provides instant gratification.
I'm in love with our new floor (which is less glossy than the image above suggests) and can't wait to finish the room. We're now in the process of choosing THE perfect wall color. Any suggestions as to what would work with a black floor?
Apparently, the way to paint floors these days, is to use either boat paint, which is toxic and takes a year to dry, or use interior wall paint and cover it with a few layers of fast drying clear coat, and that's what I did. It was much easier than expected. I painted the last coat at 7am on Friday morning and at 9am, we were off to NYC and the airport.
Remember that I wasn't sure if the fasting while traveling was right for me. But I tried it and it really works. I have no jet-lag to speak of and feel great. (See here what I did.)
I'll keep you updated and will post sporadically over the summer to share impressions and discoveries.
Visit Suschna to find out what she has created for this month's fabric manipulation and to find more links.