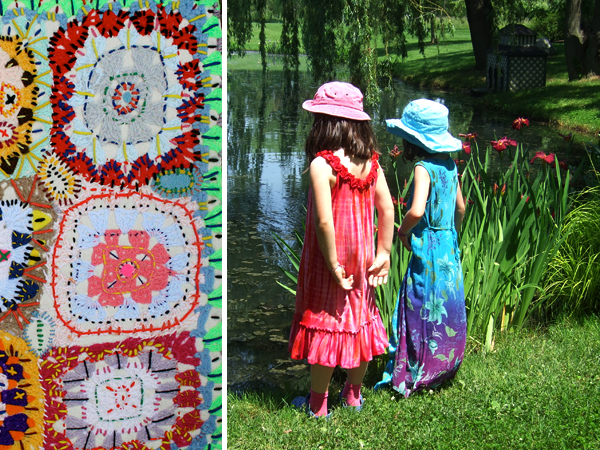 Do you sometimes have a song stuck in your head; a song insidiously intruding into your thoughts, one that you can't get rid of?  In German that condition is called an earworm and according the Wikipedia they last longer (and are more irritating)  for women than men. Someone has to study that further.
When I posted yesterday about Amanda Goode's work in the morning, I had no idea that her patterns and colors would be stuck in my head for the rest of the day.
I have earworms frequently. Yesterday for example it happened when we went on a fun excursion to Aurora, NY to have brunch with friends and stroll the grounds of MacKenzie Childs. Though the store is not to my taste, their grounds are spectacular (and their bathroom features the most beautiful tiles).
My husband wondered if I had an attack of  synethesia, when I declared that I was having an earworm with Amanda Goode's work, a visual earworm of color and pattern.
For instance,  the patio furniture looked to me like her crochet pattern: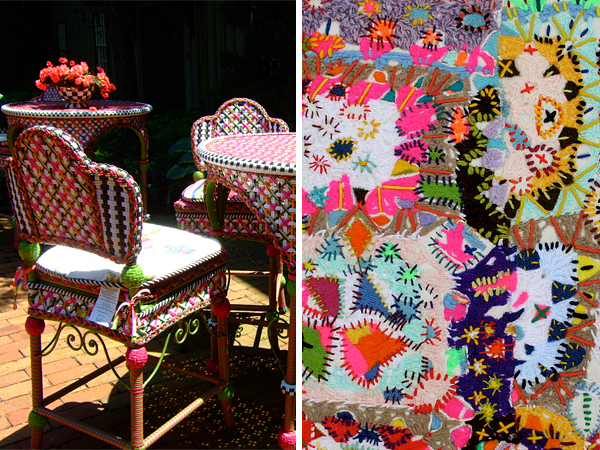 The bathroom in the store looked like her knit pattern: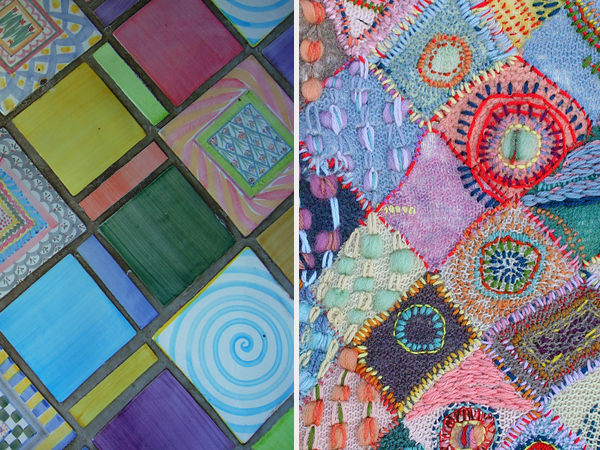 The scenery and way the girls (not my daughter, but my friends daughters) were dressed in the top image also echoed the colors I had posted about in the morning perfectly.
Isn't it interesting that our perception follows so much what is in our thoughts, or is it the other way around?
It seems that our brain likes tasks to be finished. The reason a song gets stuck in our head is usually that it was interrupted.  Maybe it was so bad that we turned it off half way through listening, or we only remember the first verse, go blank and do something else.
Our brain remembers uncompleted tasks better than completed ones and in an attempt for the brain to come to closure, the song pops in our head at odd intervals and repeats itself, hoping for…. I don't know.
This is called the Zeigarnik effect after Bluma Zeigarnik.
For me it's usually the awful songs that get stuck. The ones I hear on the radio and turn off half way through. Although last week I was stuck with Adele's "Rolling in the Deep", which I sang at the top of my lungs in the car for an entire week (yes, I was alone). It could be worse.
I wonder how the Zeigarnik effects relates to creativity. I do have some projects that need finishing touches.
But then, unlike a song, many creative projects don't have a clear end. Usually, once I decide that a project is finished (however unfinished it may look to the observer), I can let go and my brain checks it off nicely. It happens when my exploration is over and I come to a satisfactory moment of "having figured it out".
Do you have trouble abandoning a project (or declaring it finished) before starting a new one?