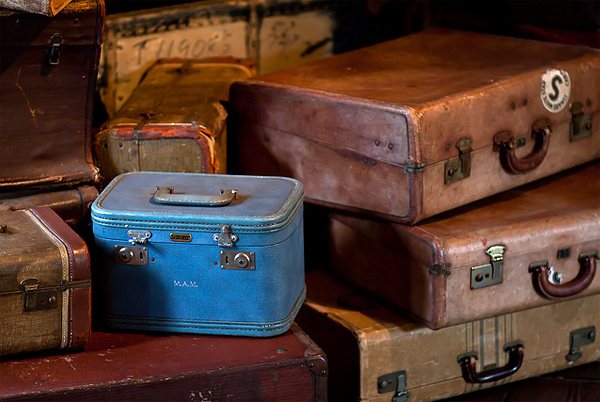 "Our battered suitcases were piled on the sidewalk again; we had longer ways to go. But no matter, the road is life." – Jack Kerouac
Did Jack Kerouac travel with a suitcase?
Only one week left until I'll pack my own bag to spend the summer in Germany. But we're still here and in transition. First we have the annual school play with costumes that needed urgent attention (sewing involved, but more goal driven than is good for me). Shouldn't I prepare for our trip?
A few days ago, I stumbled over Stefany Ann Golberg's fascinating article on travel luggage, namely the backpack. Call it stuck in time, but I still exhibit a bit of nostalgia in thinking of these carefree days when we hauled backpacks through the train stations of Europe looking for the cheapest hostel we could find. Often, the bathroom was in the hall.
For this summer's trip, I considered briefly a backpack to limit what I could bring, but wonder if it's more driven by fond memories than practicality.
Stefany Ann Golberg's article examines how we identify ourselves by what we bring on our trips.
"The backpack once allowed travelers to leave their lives behind. Today, it lets them take everything wherever they go.

…In the 1960s, backpackers left as much as they could behind in order to release themselves from the burden of self. Now backpackers take as much as they can take in order to be self-sufficient. In the '60s, the backpacker's quest was to remove everything — often one's self-understanding, one's identity — to access something pure. Today, backpackers want to assert their identity across national boundaries with the help of the things they own….."
Her random investigation of backpacking sites list the following items as today's backpack essentials:
water purification tablets
deodorant
toothpaste
2-in-1 shampoo and conditioner
sunscreen
insect repellent
camera
notebook and pen
Mp3 player
pack of cards
extra memory chip and battery pack for camera
USB cable
earplugs
sleepsheet
LED flashlight
hand towel
compass
small garbage bag
padlocks
ATM card
sandals (for the beach and to protect against hotel shower fungus)
travel tissues
inflatable pillow
Wet Wipes
Wet Wipes….of all things. It's clear that today's packing lists look very different than those from the past.
To illustrate my point, look at this famous list by writer Joan Didion:
JOAN DIDION'S PACKING LIST
To Pack and Wear:

2 skirts
2 jerseys or leotards
1 pullover sweater
2 pair shoes
stockings
bra
nightgown, robe slippers
cigarettes
bourbon
bag with: shampoo, toothbrush and paste, Basis soap, razor, deodorant, aspirin, prescriptions, Tampax, face cream, powder, baby oil

To Carry:
mohair throw
typewriter
2 legal pads and pens
files
house key

"This is a list which was taped inside my closet door in Hollywood during those years when I was reporting more or less steadily. The list enabled me to pack, without thinking, for any piece I was likely to do. Notice the deliberate anonymity of costume: in a skirt, a leotard, and stockings, I could pass on either side of the culture. Notice the mohair throw for trunk-line flights (i.e. no blankets) and for the motel room in which the air conditioning could not be turned off. Notice the bourbon for the same motel room. Notice the typewriter for the airport, coming home: the idea was to turn in the Hertz car, check in, find an empty bench, and start typing the day's notes."

—Joan Didion, The White Album
Wonder what she means with "I can easily pass on either side of the culture"?
I'd replace the typewriter and legal pad with some sewing supplies and add more clothes….. The bourbon would likely be confiscated thanks to Customs, but I won't be staying at a motel, thus might not need it.
This year I'll be making a sensible packing list, because I love to travel light. Which means all the electronic devices will have to be added to my husband's list.
Stay tuned for the increasing craziness of the last few days here (which might even involve a floor make-over).
Photo via (cc) Flickr user Drew Coffman