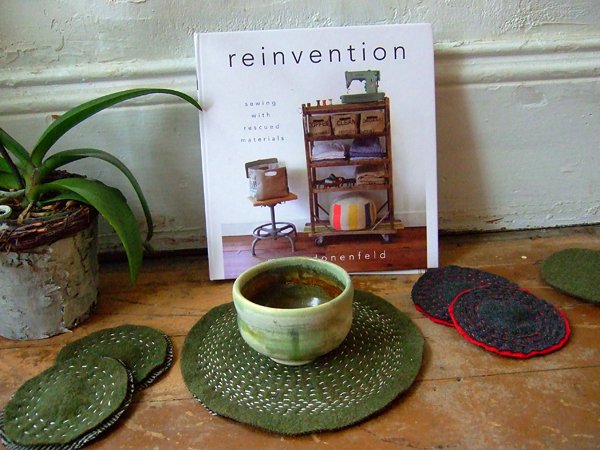 My dear friend Maya has written a beautiful book: Reinvention: Sewing with Rescued Materials
. It features 28 great projects made from recycled material celebrating creativity, sustainability and resourcefulness.
If you haven't found your own copy yet, here's your chance to win one, courtesy of the publisher Wiley. Just leave a comment below with your contact information by Saturday, May 12 at 12pm EDT and I'll announce the winner on Sunday.
I met Maya years ago and we soon discovered a shared love for making something out of nothing, or more precise, out of recycled material. Maya had already taken the blog world by storm with her burlap buckets which were featured on every major design blog. I was experimenting with needle and thread, making t-shirt skirts and linen rings.
Maya motivated me to try my hand at writing a blog, and annekata wouldn't exist without her constant encouragement over many cups of coffee. That's what real life friends can do. Her inspiring conversation made moving beyond my comfort zone sound easy and fun. When she revealed her plans for creating a book featuring projects using all recycled materials, I was thrilled.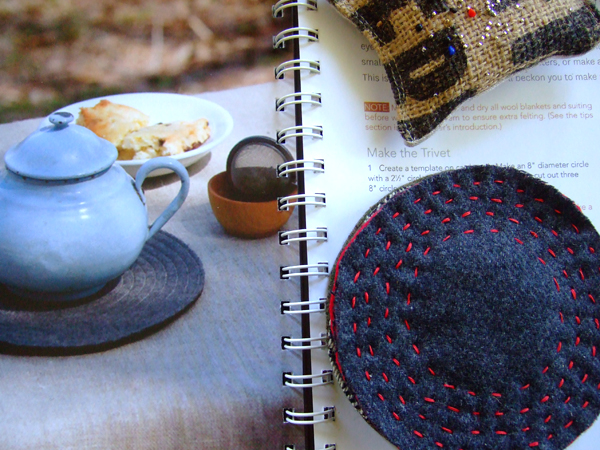 It is a wonderful book. Her projects are perfect for beginners and advanced sewers alike, because the instructions are clear, but leave room for experimentation. In fact, she specifically invites readers to create their own versions of the designs. And that is just what I like.
As a hand-sewer I was curious to see if there were projects that could be done using just needle and thread and there were plenty. The trivets below are a great example of a project that's beautiful in its simplicity, but can be taken further. It's perfect for a beginner. Sewing circles with a straight stitch is simple and meditative. Wouldn't a bottle of wine with these coasters make a special gift?


My first trivet/coasters were a bit wonky, but I like when hand-made looks like it was made by hand.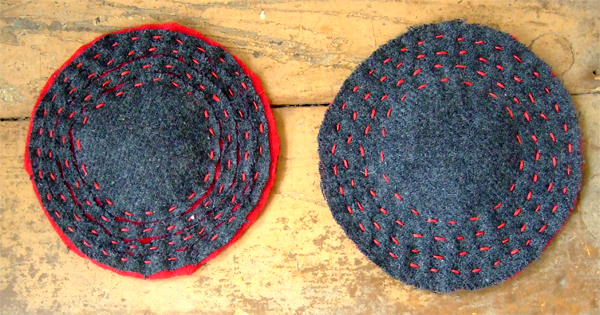 This grey coaster (left) got a "haircut" to reveal some of the red wool layer underneath. My future coasters will include embroidery, applique, reverse applique and freestyle stitching using different colors.
The green trivet below right is my favorite. The circles close to the center were spaced evenly and then closer together. At first I planned to knot off after each circle, but it is less time consuming to "hide" the thread between the layers of wool when moving from circle to circle. Depending on how thick the material is, use as many layers of wool as you see fit.  It's one of those perfect small projects that can be done in an evening. Very very satisfying.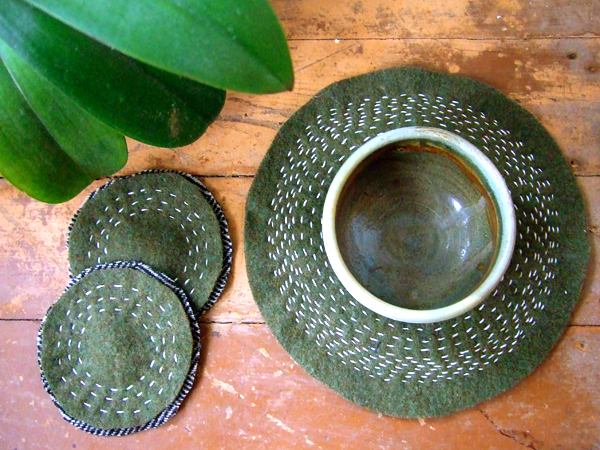 There are plenty of other projects that can be done by hand besides the trivets: The story-scarf, the reversible summer bag, the insulated lunch sack and versatile blossom bands made from jersey all pictured below.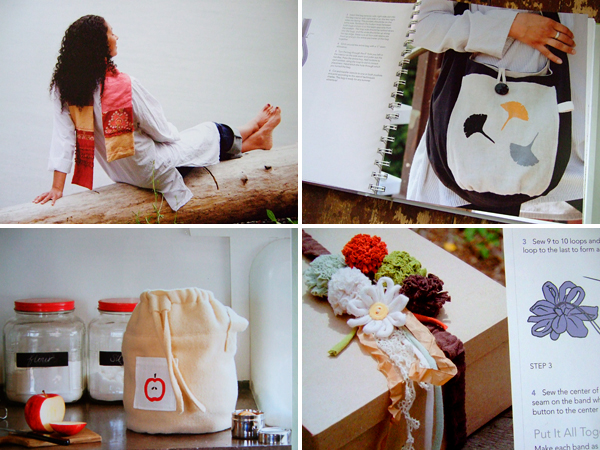 More projects for hand-sewers include a girls forager skirt and a clever vintage linen bag to store your undies or socks. I have never sewn burlap by hand, but her inspiration board doesn't even require needle or thread.
'Reinvention' is organized by material and includes a short history of linen, burlap, jersey, wool, denim, Tyvek and vintage linens, which she embellishes with freezer paper stenciling. Personal stories and a special cookie recipe give the book a warm feel and personal touch.
Reinvention is one fantastic book! (For a signed copy by Maya, you can order it here.)
Don't forget to enter the give-away in the comment section below (at this time unfortunately only open to US residents).
***
Please follow along with the rest of the Reinvention tour to see more of the book, enter the contest and even some free projects!
5/15 Etsy (tuesday tutorial)