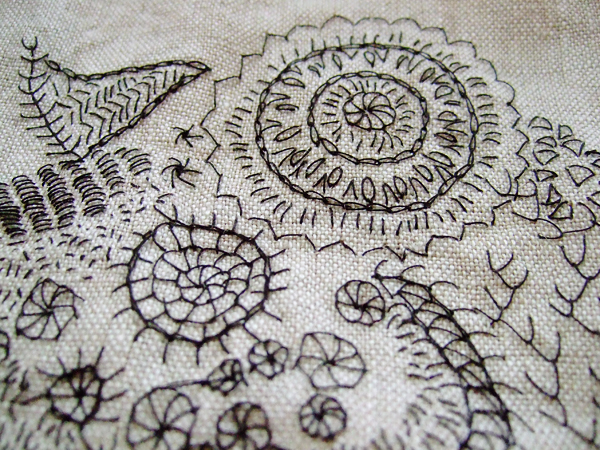 Isn't it interesting how hard it is to stitch freestyle? Or is it just me?
After a few more stitches on my practice piece, I once again realized that stitching is only meditative when I know where the needle should go next. Free style stitching without any plan is not relaxing, but there is something new for me to learn here. Not sure what yet. Maybe patience?
On another note we're in the midst of our bi-annual booksale and this weekend hardcover books were down to 2 dollars each. Imagine an old warehouse filled with thousands of books. It's heaven! This is a selection of what I schlepped home: Dorothy Parker's Stories, Creativity by Mihaly Csikszentmihalyi and a German version of The Adventures of Hajji Baba of Ispahan by James Justinian Morier of "the many adventures of a nineteenth-century Persian rogue, none of which involve honest labor". It's from 1829 and the oldest book I now own.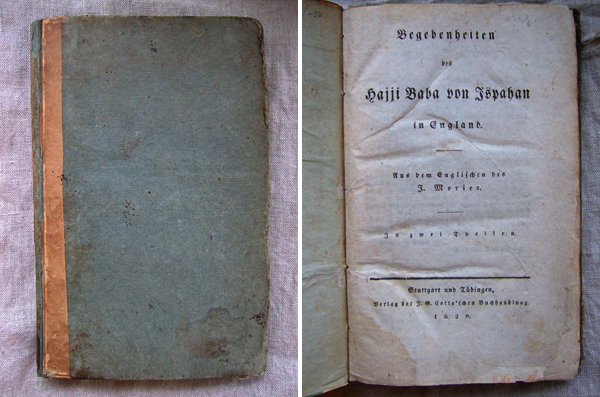 To touch pages that are over 180 years old is wonderful. They're almost transparent and the book is in great shape; it has been treasured and well taken care of. To imagine that it was so special to someone that it was brought by boat all the way from Germany and has made it into the 21st century.
One book that I am particularly looking forward to reading is "Cloth and Human Experience" a collection of essays by anthropologists of the role of cloth: " Cloth in Small Scale Societies", "Cloth and the Creation of Ancestor's in Madagascar" and "the Changing Fortunes of Three Archaic Japanese Textiles" are just some of the exciting chapters I can't wait to read.
While searching for the amazon link, I stumbled over another book, which sounds equally intriguing: Women's Work: The First 20,000 Years: Women, Cloth, and Society in Early Times by Elizabeth Wayland Barber. I just read the first few pages and the book starts by looking at the reasons why sewing and cooking were women's work for thousands of years.
The premise is that in order to not lose women's productivity in the childbearing years, they had to be assigned work that allowed easy care for children. After all, children were nursed much longer than they are now. The work had to be somewhat repetitive and boring so it could be put down or picked up easily, when a child needed to be fed or taken care of; work, that was not dangerous for the mother or child and could be done from home. Food and clothing both fulfill these criteria.
Does this come to full circle in the blog world? Look at all the food and sewing blogs out there, many by mothers with small children.
While in the past sewing was shared with family and local community, now the sewing circles have become much larger and that's a wonderful thing.
Thank you internet!