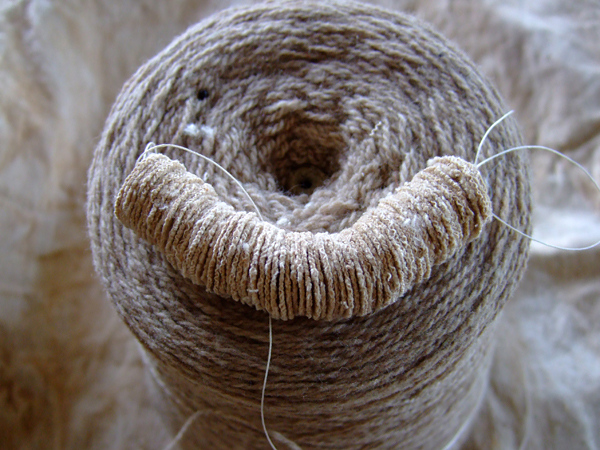 This month's  journey of fabric manipulation was a rocky one. Hence this post is more about "Creativity Manipulation", because no matter how hard I tried, nothing worked the way I wanted it to.
Early in the game – like a week and a half ago – I cut holes in a curtain panel with the intention to fill them with interesting embroidery. What I didn't realize is that the fabric was so gauzy, that every stitch pulled the fabric and made the holes look moth eaten and messy rather than artfully mended. Result: I ruined a perfectly nice gauzy white curtain panel. Remedy: A glass of red wine.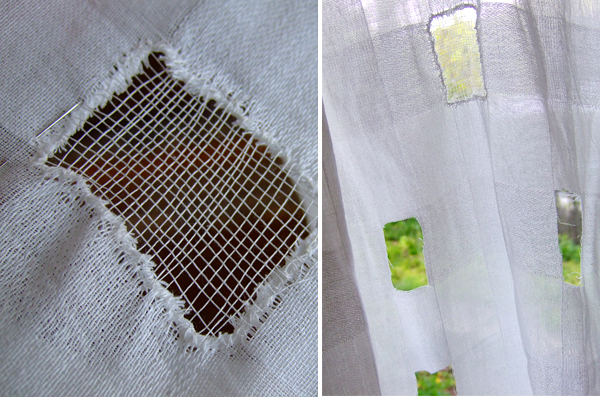 Next I wanted to attach some wool circles to my earth dyed linen fabric and convert it into a pillow. I stitched a circle, wove some wool fabric back and forth, brushed it and….it looked like sh_t. Remedy: I went to bed.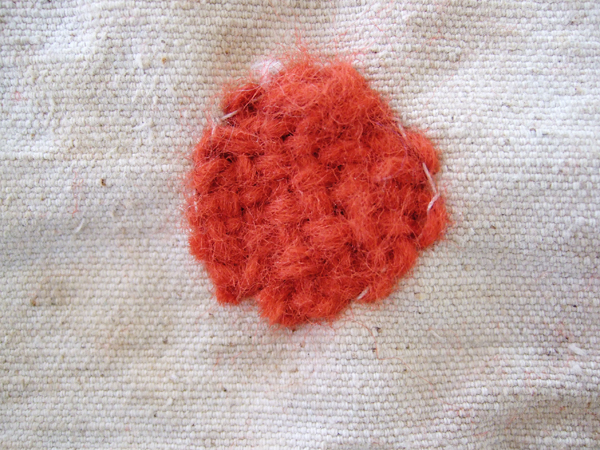 "I'm trying too hard", I told myself…."cool it and do something simple, mindless even, the rest will come by itself". So I cut lots and lots and lots of tiny linen circles and waited and waited. The rest didn't didn't come by itself. Result:  I ended up with lots of linen circles, which I threaded onto a piece of string while watching 30Rock.
Then I thought: "Carving". Maybe I can somehow "carve" the stacked circles using my scissors to give the stack a curved edge. Not only would this work for jewelry, but it would also enable me to make seamless vessels. Stack a lot of fabric and "sculpt it" into a vessel. I tried to curve the edge and the result I sewed into a ring. It looked a little fuzzy around the edge, but with a bit more care and measuring, the stacking and carving idea has some potential especially when the fabric is chosen correctly.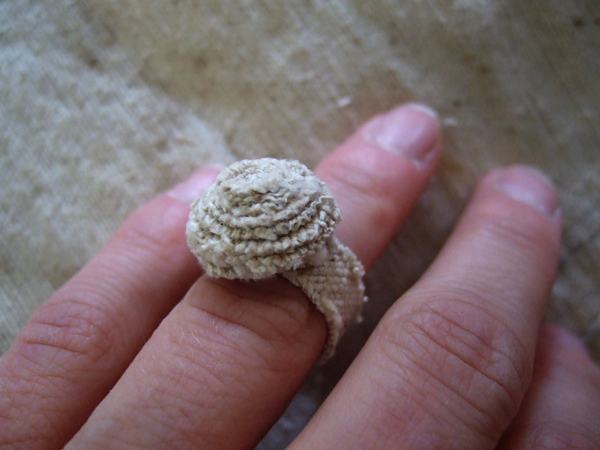 Yesterday night I stitched some herringbone pattern and that my friends, is where it stands.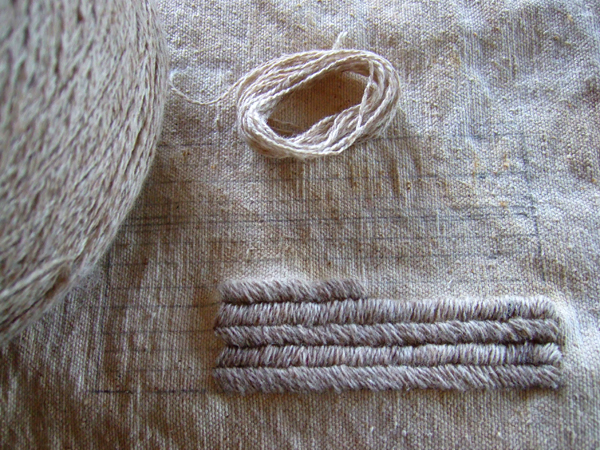 All of this was a bit disheartening, but after the initial disappointment of not having anything presentable to blog about, I was able to laugh at my efforts.
Creativity on demand is hard. What I learned is that no matter how much I try to stay in the moment, when a deadline is on the horizon it's hard to not care.
It's Sunday morning here in the US. Time to let go, make myself a cup of hot tea and enjoy the other fabric manipulation projects suschna collects here.
Next month will be better…