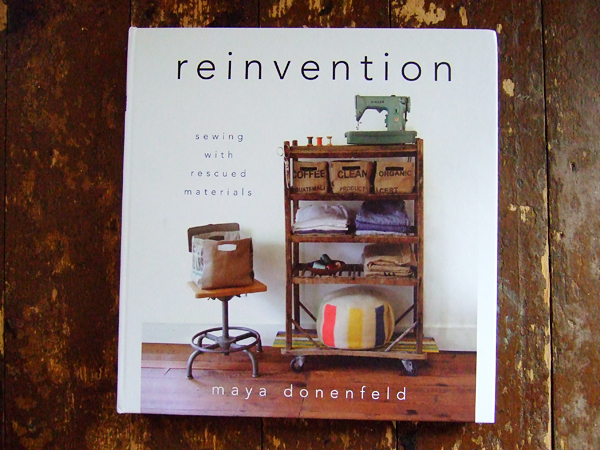 Guess what arrived at my doorstep and what I'll be doing this morning. Brewing a cup of tea and reading the brand new book my wonderful friend Maya has written. And what a great book it is, with its beautiful images and fantastic projects, all of them made with easy to find rescued materials: from denim to linen, felt and even Tyvek. Love that everything is recycled.

Isn't this rug beautiful? It's made from denim  and I love the color and shape with its raw seams.
Projects include accessories from a scarf, blouse and hairbands to home goods such as pillows, a hamper and even a hammock . However her book would not be complete if it didn't include one of her trademark designs, the burlap bucket.


All the rage on many fine design blogs, you can now make this fabulous bucket yourself. This square version below is one of my favorites. Go here to preview and order her book. I can't wait to experiment.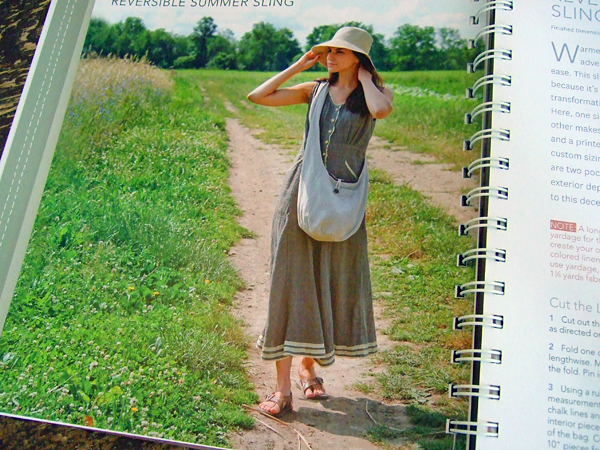 Once I'm finished reading, I'll go for a walk. Really, I will.
During the last few months I was feeling a bit sluggish. After all, it was winter and although mild, it was still cold and muddy most of the time. Now that it's spring, there's no doubt, I'm a bit out of shape. Just a little bit.
Frankly, I had no idea how unfit I really was until I bought a pedometer. I read in an article that 10,000 steps is considered living an active lifestyle. Piece of cake I thought. I easily do that over the course of the day.
Then, I sobered up, because according to the pedometer, I only walked some 5000 steps.
Oh no, under 5000 steps is considered sedentary and I just cleared the bar into the low active category. At first I thought the darn thing didn't work, but sadly it does. Wow. 5000 steps away from being fit, that's not good. But that's me, on an average day with more time than  I thought spent sitting in front of a screen, eating and then sitting some more. I guess I'm usually sitting,  unless I'm on the phone. The minute that phone rings, I jump to my feet pacing restlessly like a tiger in a cage and will not sit until the conversation is finished. Mmmhh, maybe I'll call my mama this morning.
What I've learned so far is that wearing a pedometer will automatically help you move more. Automatically. Do you like the sound of that? Its mere presence is a constant reminder to move and after a few days I was up to 6000 without any perceivable change in my behavior. When I added a daily walk of 15 minutes, my step count is now up to 7000  or "low active". And that's only one short walk a day. Next time I'll walk 30 minutes. That's not too hard.
What often prevents me from moving is that I love hand-sewing and reading and browsing the web. Well and there is work. These are all sitting activities. When my couch potato self argues with my health conscious self, it usually sounds like this: "It's warm here and we have to work and check email/blogs/pinterest  and do all the other super important things. We can walk later. Why don't you make a nice cup of hot tea instead. Come sit, be comfortable and productive…" Oh, how tempting it is to listen to that little siren…..that little "Schweinehund" in disguise.
But now my health conscious self has an assistant, the pedometer, which is counting away (or rather not counting at all), reminding me this very moment that it's time for a walk. Yep, I'm listening.
I'm almost out the door. Almost.
************
Reinvention: Sewing with Rescued Materials [Hardcover]
Maya Donenfeld (Author)
ISBN-10: 1118077539
ISBN-13: 978-1118077535