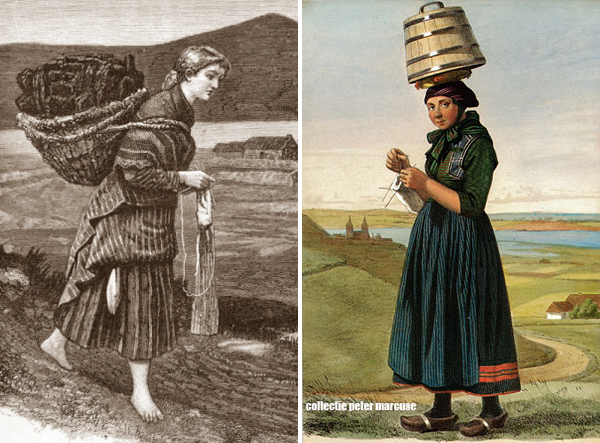 Look at these multi-taskers above, especially the right one. Balancing in clogs with a vessel on her head and knitting at the same time is admirable. Sia commented the other day that she fell into a ditch while trying to walk and knit simultaneously and it made me laugh out loud. Not because of a mean moment of "Schadenfreude", but because I imagined myself walking, knitting and hitting every post in my town if I ever attempted such a thing. Can you believe that the web has instruction on how to knit and walk at the same time?
It seems that in the 18th century it was quite common for both women and men to knit while on their way to work in the fields. They used something called a knitting sheath and I found this website  which features the history of domestic paraphernalia.
I used to knit a lot, but now, only tackle small simple projects. Not simple enough however to walk and knit simultaneously, but simple enough to let at least my mind wander. Nikki Gabriel designs simple scarves that morph into boleros and then into short and long sleeved sweaters depending on how many balls of yarn you knit and add. The designs feature square components that can be assembled into a number of different garments;  very cool.
My favorite knitting blog is by Kate Davies from Edinburgh, who not only creates the most astonishing knitting designs, but also walks the Scottish Highlands and writes about knitting heritage. Her adventures are chronicled with a fierce passion for handcraft and history, illustrated with her beautiful photography. Her site is archived by the British Library as part of its project to preserve national documentary heritage. My favorite pattern is her owl sweater, but frankly, all of her designs are beautiful and the Scottish landscapes breathtaking.
Habu Textiles has the most interesting yarns, from paper, silk and linen to cotton wrapped steel.
While I thought I had a great idea for Sunday's fabric manipulation, it turned out the idea wasn't great at all. I'm actually curious myself, if I can pull something out of the hat. Maybe I knit a small fabric panel and pin it to the wall like Heidi Kennedy Skjerve?
See you Sunday manipulation or not.
Enjoy your weekend.