Let's manipulate together!  German bloggers Suschna, Nahtzugabe, Griselda, Karen, Tally, frifris and Kathrin are interested in experimenting with fabric manipulation.  Anything goes; included are embroidery, couching, shirring, quilting, pleating and smocking.  If you don't know what some – or any – of these mean, don't worry, it's whatever you can do to alter a fabric's surface.  We'll all post our creations on Sunday, Feb 26th.  Email me, if you're interested.
Two great sources of inspiration are Colette Wolff's book "The Art of Manipulating Fabric" and Allison Reid's "Stitch Magic.  Wolff's book is fantastic, but has the look and feel of a college textbook, while Reid's is more a feast for the eyes with its beautiful contemporary creations.  I don't own Reid's book, because it's hard for me to maintain a fresh eye once I've seen what can be done.  See some of her work here.
Examples from Allison Reid's Stitch Magic: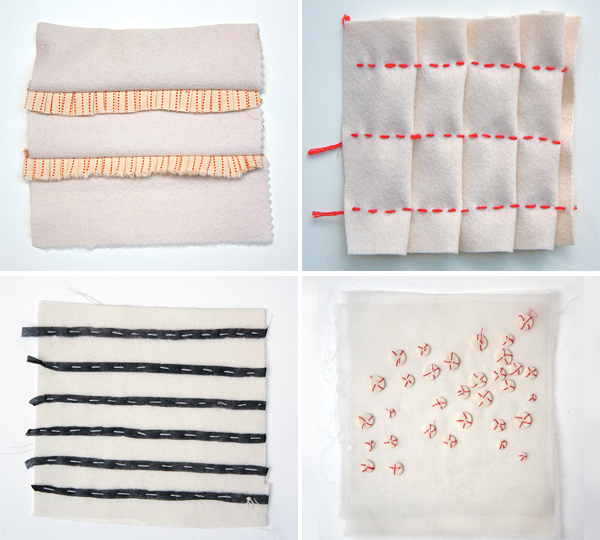 An example from "Manipulating Fabric":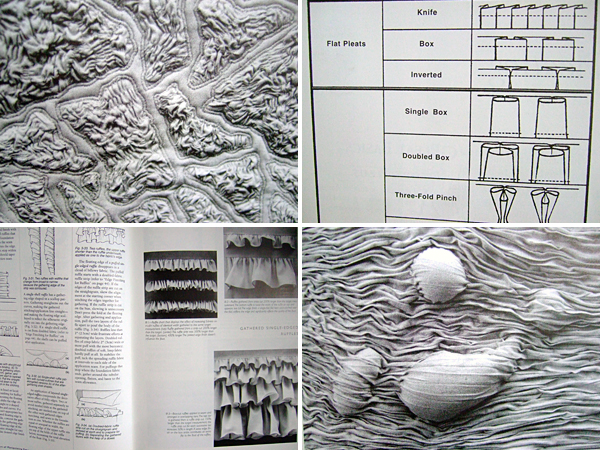 So, what does the opening image have to do with any of this?
Remember the muumuu from a few posts back?  Well, it features some pleats and that is fabric manipulation.  I didn't like the outcome, but hate to leave a project unfinished.  I took the sides in and shortened it. The result?  It's wearable, but now it's too short, and I need to wear a skirt underneath.  You see, no matter  what I did to the darn thing, it's just not fitting right.
Here's what I've learned so far: Japanese tunics look good on other women.  Mine looks great on a hanger.  The pictures above reflect how I feel about the thing – a bit silly.  Maybe it is the color?  I wonder if far back in my mind untouched by thought and reason there's a part of me that believed I would look a bit more Japanese.  Needless to say, that was not the case.
However it was an interesting experiment to follow the pattern and I enjoyed making the pleats.
If you are interested in joining us to make a little something for the 26th of February, that would be great.  Send an email to kathrin(at)annekata.com, so we can all visit you. It can be a tiny project of an embroidered handkerchief or anything that feels doable and fun.  It's a first for me, too, so don't be shy…..
Let's be creative together.