Doesn't the word "cowl" sound unappealing? Sounds like scowl or growl. Let's call it a "neck warmer" instead, which sounds functional and friendly.
Rudimentary crochet knowledge is necessary, but the item is so simple, that a beginner should be able to accomplish  this with ease. If you need support with the stitches, I found this to be a good resource. As with most simple accessories, the "neck warmer" can be worn in many different ways and customized easily. This one can also be a hat in that moment of need (very cold or bad hair day).
Let's begin. For the neck warmer above, I used vintage wool with 3 stitches to an inch. Bear with me as I'm new to the crochet tutorial world and its mysterious terms. Below is a "doll size version" to show the basic stitches and techniques. Two strands of wool were used as there was no thick yarn on hand. Not that clever for a tutorial, but you get the idea.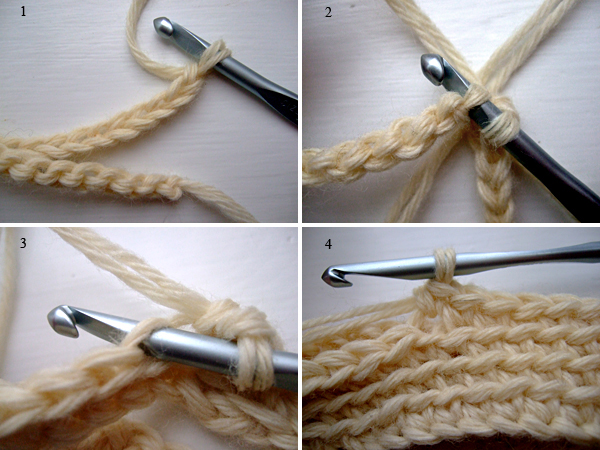 Chain 70 stitches. Mine is 11 1/2 inches wide. If you would like to wear your neck warmer on your head as a hat, make sure it fits comfortably around your forehead without slipping. If a different number of stitches is chosen, make sure it's an equal number and can be divided by 8 or 10, which is the number of 'button holes' needed.
For this example, let's stay with 70 stitches.
Chain 70 and close into a ring.
Crochet the first row into the "spine" of the chain as shown in image 2 above. The backside has a small ridge and looks like a spine. Crocheting into the spine makes the selvedge look neat. However, do whatever is comfortable.
Make sure you still have 70 stitches. As much as I embrace imperfection, it's also good to try your best and easier to correct a mistake early in the game.
Crochet into the back loop (image 3) of the first row to achieve the ribbed effect. Crochet 37 rows or approximately 10 1/2 inches.
Next come the "buttonholes". These are needed to convert the neck warmer into a hat.
An equal number of holes is needed to thread the string through. I decided on 10.
Next row: Single crochet 5, chain 2, skip 2 and crochet into the next loop (see image 5). If my description isn't clear, here's a visual illustration on how to make buttonholes. Finish the round until you have the 10 buttonholes. Note: Buttonholes are important if you want to use a thicker tie. You can omit this step and thread a thinner string directly through the stitches.
Crochet 3 more rows (roughly 1 inch) or a little more if desired. To fasten off, cut the yarn at 4 inches, make a chain stitch and pull the yarn through the loop. Weave the tail through the stitches. Next, weave all the tails in.
Crochet a string 52 inches long. Thread this through the buttonholes and you're done.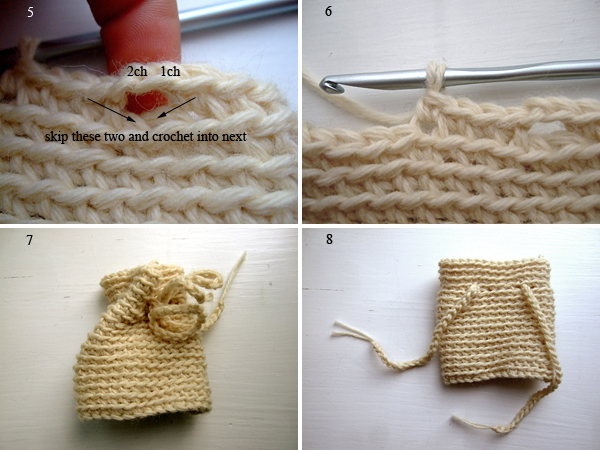 Variations: Use a thin silk scarf to thread through the holes. Make pom-poms to give the head a 50's feel. Pin a flower on it.You can also weave some thread through the ribs (image below left) or wear it on the "wrong" side (image below right), which makes an interesting pattern.

Here again is how my daughter wears the same piece, proof that one size fits a large variety of head sizes.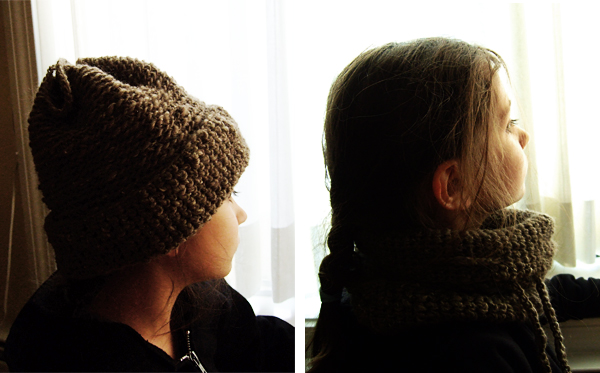 Now I really need to go, because my latest distraction over the weekend was Downton Abbey. I'm sure everybody has seen it already, but I'm often a bit behind. It's even more addictive than Britain's Got Talent. Darn Netflix!