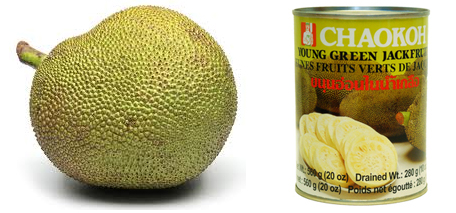 Evi was the closest, but not quite. The dish was made with jackfruit, an Asian tropical fruit which can grow as large as 3 feet long. It can be used either green as a vegetable or mature as a sweet dessert.
Unripe Jackfruit has a remarkably similar texture to chicken (or pulled pork), making it an excellent vegetarian substitute for meat. It is often used in Indian and Thai curries.
After finding this recipe, I was intrigued and wanted to try it immediately. Luckily our Asia market in town had a good supply.
So, what's the verdict? The dish has a unique taste and a meaty texture. Does it taste like what it looks like when it's cooked? Nope. Will I eat it again? Yep. It seems very versatile and I can't wait to experiment further.
Enjoy your weekend!