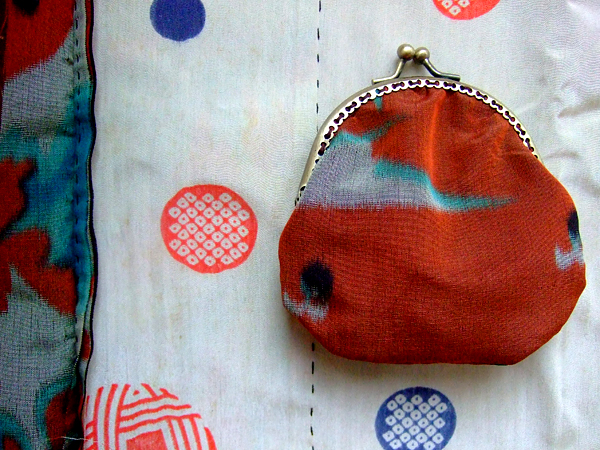 This weekend I was finally brave enough to cut into a piece of fabric a friend sent me from Japan. The coin purse is a start.
Although I've never been there, Japanese culture fascinates me: Boro textiles, the elaborate ceremonies around kimonos and wabi-sabi to name a few. What I hadn't heard about was the term "mottainai" . Don't ask me how I found it, but I did.
Mottainai means "a sense of regret concerning waste when the intrinsic value of an object or resource is not properly utilized". According to wikipedia, it can refer to physical waste (resources) but also to wasted and wasteful efforts and actions, activities, time, souls, talents, emotion, minds, dreams, and potential.
Kenyan Nobel Peace Prize winner and environmental activist Wangari Muta Mary Jo Maathai (1940 – 2011), heard the word mottainai for the first time when she visited Japan and started the MOTTAINAI Campaign, which is striving for world peace through environmental conservation.
A wonderful example of how powerful words can be. To think that the sense of regret concerning waste can be expressed so precisely in one word. Obviously, this is not exclusive to the Japanese language. Just think of words like "Zeitgeist" or "Weltschmerz".
Many of those words can't be precisely translated because they are tied into a culture. "Wabi Sabi" is one of these words or "Mono no Aware", the awareness of impermanence, or the transience of things.
I think about language all the time, because English is not my mother tongue. Here's an example: If I say in English: "I bring a friend….", nobody knows if that friend is man, woman or dog. In German and many other languages, the sex of bespoke friend has to be revealed right away simply because of the word's ending: "Freund" (masc.) or "Freundin". Amigo or Amiga.
Do you believe language constricts the way we think?