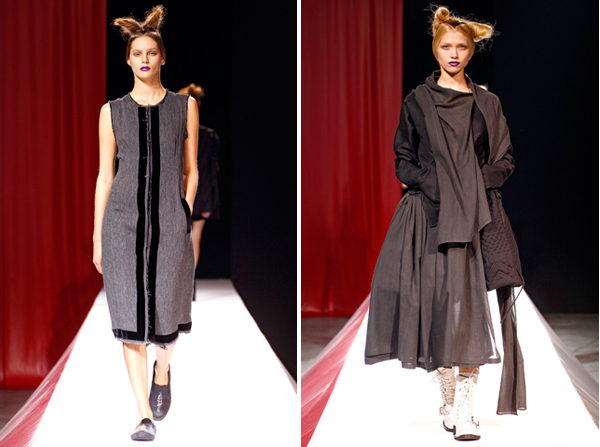 While in winter's firm grip, my thoughts turn to what to wear in spring. With every passing year I ask myself: "Can I "still" wear this?" It started around my 42nd birthday when grey hair made its first appearance.
Do you wear the same kind of clothes now as when you were younger? Or for the younger readers for whom this question seems light years away (it's not trust me), do you wear what really feels comfortable? By that I mean not just physically comfortable, but also emotionally. Do your clothes represent you, your values and aesthetics?
Mine sometimes do, but more often not, at least aesthetically. Dressing in the morning is a quick 5 minute affair largely determined by what's clean and what's available.  And last but not least, what is in "the pile". Trust me, no self-help book has worked to organize "the pile", a huge entangled heap of black clothing. It's my wardrobe, without the physical structure to keep things from "spilling" into each other. Luckily color coordination is unnecessary… black stuff from "the pile" is my daily uniform.
Back to what to wear in spring. The top image is from Yamamoto's 2012 collection. As usual it features lots of greys and blacks that can be worn year around. The dress on the left is something I would wear in a wink as opposed to the draped outfit on the right, which doesn't seem to be wearable at my age or my surroundings. Don't get me wrong, I love it, but it wouldn't be me.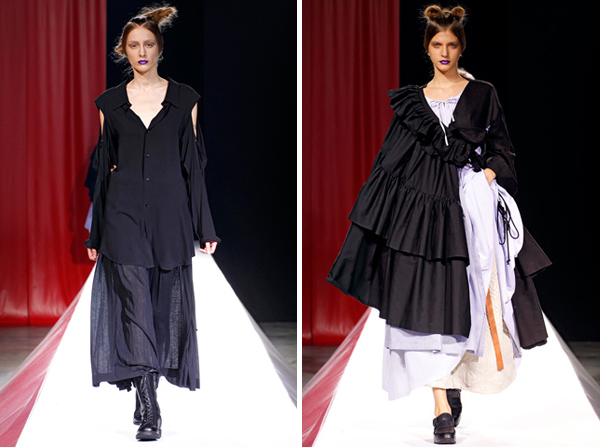 Same here. The combination on the left would be very welcome in "the pile" while the one on the right looks more like something Helena Bonham Carter would wear on the Red Carpet.
I truly admire when women wear what they want and not give a damn. Just look at the shoes. By the way, the lady on the far left is Helena Bonham Carter's mama. Is it possible there's a gene for wearing eccentric outfits? Here's what Helena says:
But fashion is all about having fun. I think fashion has been hijacked by the fashion industry creating rules on what one should wear and I feel like breaking the mold and seeing that the world won't crumble."
Right she is. But, if I'm really honest with myself, I'd love to live Bonham Carter's attitude, but then I look at Binoche and….. well, she does look kind of good, doesn't she?
Are you comfortable with what's in your wardrobe and do you feel it reflects who you are?