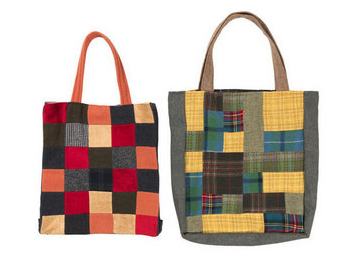 Imagine a place where men with needle and thread stitch beautiful patchwork bags, embroidered linens, needlepoint pillows and quilts.  Now imagine that this place is inside a UK prison, thanks to an incredible program called "Fine Cell Works", in which prisoners create delicate items to be sold through their website.
The program runs in 26 prisons across the UK and gives prisoners a chance to learn something new, make something meaningful and earn money while rebuilding their lives.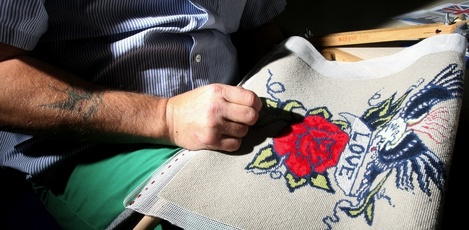 "Of all the aesthetic projects offered down the years to capture the imagination and tame the frustration of prisoners, fine needlework is one of the oddest. Yet it has worked, and borne fruit, and perhaps after all it is not surprising. Prisons even at their best are stark and utilitarian places. The chance to create a piece of 'unnecessary' beauty and send it out into the world is at once a defiance of that environment, and a good use of the time spent there." – Fine Cell Work Patron Libby Purves
I love especially the last part, in which she talks about the defiance of the prison environment.
If you'd like to learn more about the work from a prisoners perspective Fine Cell Work's website posts testimonials from the stitchers. Karl's story is very moving and provides insight how the work changed his life behind bars and beyond.
Mike Albo in HandEye Magazine leaves us with these thoughtful words:
"If you put one (of these pillows) on your bed, the whole room will begin to ring with meaning. You will think about the unseen authors of everything else – the Indonesian seamstress who made your curtains, the underpaid Mexican migrant worker who hemmed your sheets – and you will also think about the power of art in general to transform lives and dispel demons."