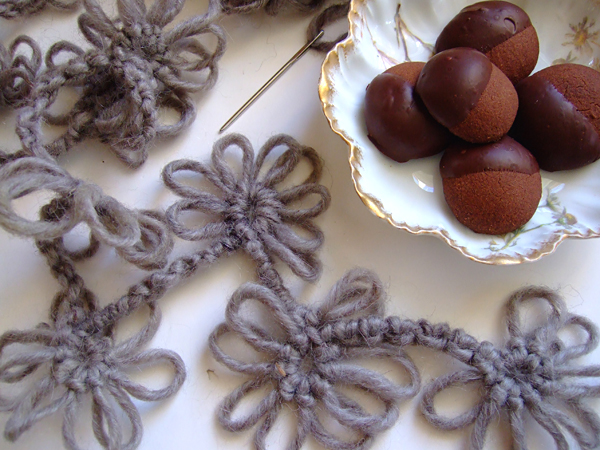 Remember the tatting flowers?  My daughter loved the idea of wearing flowers around her neck in winter. When using wool, it makes in her words "a cool scarf". I'd use a different color next time (maybe bright red) and even thicker yarn. I might also make the flowers a tad smaller.
We also baked some cookies. The kind a nine year old can make all by herself and here's the recipe: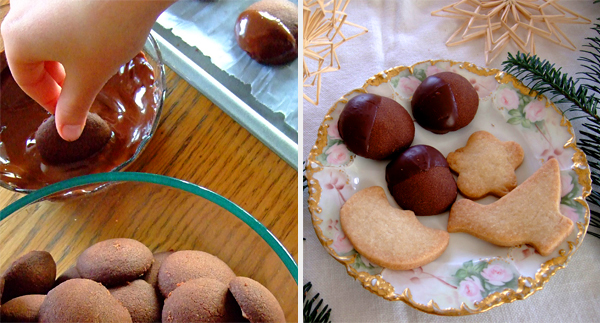 The dough is sturdy thanks to lots of fat, and the dough behaves  "…just like play dough". Once they're baked, however, the play dough texture disappears and they taste really good.
It's one of my German mama's recipe and therefore  all the measurements are in grams.
Ingredients:
75 g flower
250 g potato starch
100 g powdered sugar
30 g cacao powder
250 g butter or margarine
1/2 tsp vanilla extract
Knead everything together until the dough forms into a ball. It might take a while and seem all crumbly for an awful long time, but it will eventually come together. Place in the refrigerator for 30 min., make a roll of 1.5 inches wide and cut small pieces, the size of a walnut. Flatten between palms and don't be disappointed if they don't look like much when they're on the baking sheet. They'll be just fine after baking them at 375F for 12 – 15 min.Let the cookies cool,  melt some chocolate chips and dip them. Lick the bowl clean and you're done. Note to daughter: Licking the bowl does not replace the dishwasher!